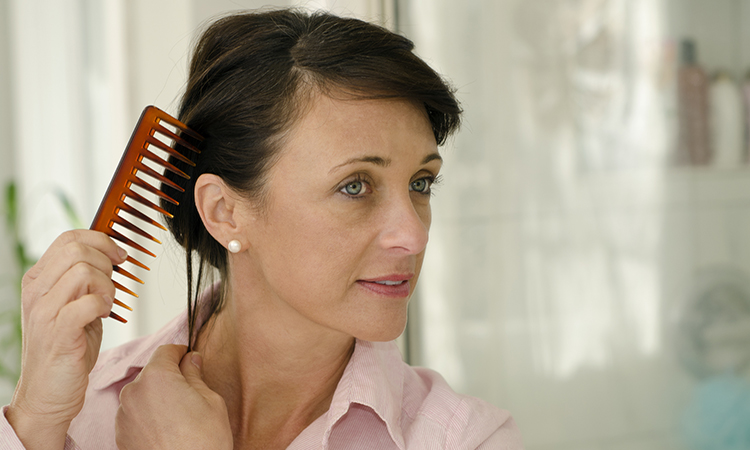 Hair Loss and Homeopathy
Posted by
Dr Batra's™ July 7, 2020
Do you feel jealous looking at women with healthy, lustrous and fine hair? I know your answer is yes, and why not? Good hair makes everyone happy and confident. It is, no doubt, an important accessory in the manner we view ourselves, as also the way the world views us. For instance, we try to hide our bald spots while going for an event or party. Baldhead men feel less confident fearing of rejection while approaching girls for date. This is simply because hair loss tells a lot more about our well-being than what our zodiac signs could say, or what the latest hair styles can achieve for us.
While it is normal to lose between 50-100 strands of hair a day, a fast depleting hairline is a cause of worry. Worrying not only about going bald but suffering from underlying health complications such as thyroid disorder, PCOS, diabetes, depression, lack of protein and other nutrients in the diet. Also, there are few lifestyle maladies such as increased pollution levels, overuse of styling products on hair, stress matters and altered hormonal levels causing hair loss in men and women; of all ages!
If left untreated or inappropriately treated, it can cause complete loss of hair on the scalp which makes it embarrassing for a person to make public appearance. It is important to bear in mind that treatment for hair loss in homeopathy treats not only the cause of hair loss but also the mind-body connect, holistically. Homeopathy hair loss treatment is different from conventional (allopathic) medicine, where individuals are diagnosed on the basis of the illness or disease, and the same medicine is given for each condition. Homeopathy prescribes a different remedy for a given illness or problem, depending on factors, such as the personality of the individual, the state of mind and lifestyle.
A study conducted in Scotland reports that 90 per cent of individuals with hair loss opted for homeopathy as the first line of treatment. This is because it can slow down the progression of bald patches and fill up scanty hair areas with new hair, leading to a complete recovery in most cases.
Besides, we have, in our cumulative experience, at our clinics, successfully treated over 0.35 million hair loss patients, based on the most advanced scientific treatment protocols. Our results confirm that professional homeopathic treatment for hair loss is clinically beneficial and effective in treating the condition without side-effects.