Vitiligo Treatment
According to the National Center for Biotechnology Information (NCBI), vitiligo is a prevalent condition that affects between 0.5 and 1% of the global population. Many cases, however, may go unreported, and some researchers believe the skin condition may afflict up to 1.5 percent of the population. 
Vitiligo is a condition that causes the skin to become colorless. This skin condition can affect people of any race. Although darker skinned people will notice it the most because of the stark contrast between their natural skin tone and the white spots caused by vitiligo.
In most cases, the affected skin starts to pale and quickly turns completely into white. These discolored areas usually grow with time, leaving behind white patches on the  skin. Although the specific cause of vitiligo is unknown, it is treatable with the consistent homeopathy treatment for vitiligo. 
Causes of Vitiligo
Vitiligo is caused by a deficiency of a pigment in the skin called melanin. Melanin, which gives your skin its color, is produced by cells called melanocytes. There aren't enough functioning melanocytes in your skin to produce adequate melanin in vitiligo. This results in white patches on your skin or hair. 
It is uncertain what causes vitiligo, but experts believe the following factors combine to develope it.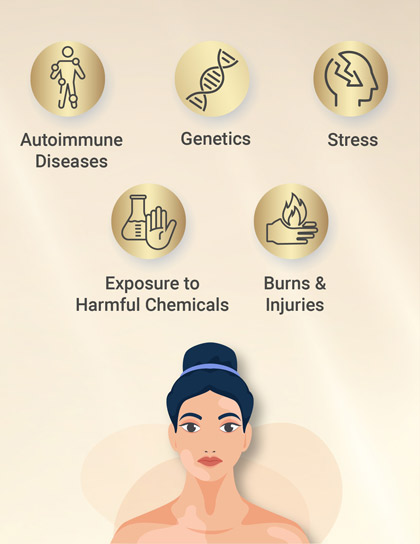 Where Does Vitiligo Show Up on the Body
Vitiligo can appear anywhere on their body. Usually vitiligo first appears in patches in areas like: 
Face
Arms
Hands
Feet
Back 
As the spots and patches expand, vitiligo may spread to other parts of a person's body. There can also be a color loss that occurs in certain people's mucous membranes, which include the genitalia, inside the mouth, and even the nose. Vitiligo also results in white or prematurely grey hair on the scalp. Some individuals experience color loss and get glowing spots on the colored area of their eyes as well.  
In rare cases, vitiligo can even affect the whole body. This is referred to as universal or total vitiligo.

Vitiligo is believed to be associated with different autoimmune and inflammatory diseases such as
Diabetes Mellitus
Addison's Disease
Alopecia Areata
Hypothyroidism
Hyperthyroidism
Psoriasis
Pernicious Anemia
 
Types of Vitiligo
There are two major types of vitiligo nonsegmental vitiligo and segmental vitiligo
Non-Segmental Vitiligo: Spreads slower than segmental vitiligo and it affects the mouth, knees, feet, arms, hands & back.
Segmental Vitiligo: Spreads faster but is more stable than non-segmental vitiligo. It usually affects areas of the skin close to nerves.
Doctors use the following subtypes to classify the level of pigment loss in the body:
Localized: Vitiligo only appears in one or a few places on the body.
Generalized: Color-loss patches can be found across the body.
Universal: The skin's original color has mostly faded. It is a quite rare subtype
 
Symptoms of Vitiligo
The most noticeable sign of vitiligo is the emergence of white spots on the skin. These are usually substantially lighter than the patient's ordinary skin, and they are especially evident in those with a darker complexion. 
Vitiligo symptoms include the following and can develop at any stage of life: 
Patchy loss of skin color
Premature whitening or greying of hair on your scalp, eyelashes, eyebrows, or beard.
Loss of color in the tissues that line the inside of your mouth and nose.
Loss of or change in color of the inner layer of the eyeball is also one of the symptoms of vitiligo 
Thyroid dysfunction is one of the most commonly observed disorders in vitiligo patients, and having a thyroid condition may be a warning sign that vitiligo may develop.
Emotional and Social Impact of Vitiligo
According to an NCBI study on the relationship between vitiligo and self-esteem, the majority of patients with vitiligo have low confidence and self-esteem. According to the study, 70% of women and 54% of men who took part had self-esteem concerns as a result of their vitiligo. Those with darker skin have been proven to struggle more with vitiligo, as pigment loss (depigmentation) is more noticeable on darker skin. 
Although vitiligo is not painful, it can develop quickly and significantly affect your appearance over time. If someone is unhappy with the changes on their skin, they may have inadequate psychological symptoms such as self-consciousness, concern, depression, or poor body image. If you believe your vitiligo is interfering with your mental or emotional stability, get professional assistance. 
Homeopathy places a significant emphasis on mental health in the treatment of both physical and mental disorders. The homoeopathic concept of health is strongly intertwined to the homoeopathic understanding of the mind in general. 
The most vexing vitiligo patch are those that cover the face, and the worsening of resistant patches on the exposed skin of the hands and feet can produce fury and disappointment. Anger and despair are common mood disorders, particularly among teenagers. 
Homeopathy Treatment For Vitiligo
There is no cure for vitiligo, however homeopathic treatments can help to stop or slow the process of color loss and restore some color to the skin. Melanocyte failure can be ascribed to a disease in which the immune system assaults and destroys them. Sunburn, stress, or exposure to industrial toxins might also set vitiligo off. Vitiligo patients are at risk of social or psychological anguish, hearing loss, sunburn, skin cancer, iris inflammation, and dry skin. 
Vitiligo is said to be a representation of an inner unsettled condition of the body, and homeopathic treatment boosts the body's natural pigment production. In homeopathy, the patient's condition is evaluated based on mental, physical, and familial characteristics. 
At Dr Batra's, homeopathy treatment for vitiligo is provided  based on the results of the diagnosis. Our skin specialists provide specialized vitiligo treatment  that include psychotherapy, homeopathy vitiligo medicine, and customized food recommendation designed for your condition. Homeopathic vitiligo treatment focuses on the body's immunity and gently restores the abnormality to normalcy. It also helps to delay the growth of the condition which is a major concern for vitiligo patients. 
Why Dr Batra's® ?
Dr Batra's® Healthcare is well-known and people trust it for its all-natural homeopathy vitiligo treatment. We have successfully treated over 1.5 million patients globally in the last 35 years. Our homeopathy dermatologist thoroughly assesses your condition, family, and medical history before prescribing individualized Homeopathy treatment.
Our highly qualified and experienced doctors ensure a 30- to 40-minutes in-depth consultation with the patient during which they analyze the patient's physical, mental, and psychological concerns and correctly diagnose the ailment using the medical science of homeopathy.
For the best vitiligo treatment in Dubai, and Abu Dhabi book an appointment with our best skin specialist now 
FAQs
Which treatment is best for vitiligo?
Homeopathy has proven very successful in vitiligo treatment. 42 of the 97 leucoderma patients and 259 of the 629 vitiligo patients who participated in a treatment trial conducted by the AKP Homeopathic Clinical Centre improved. This study backs up the effectiveness of homeopathic vitiligo treatment.
What is the fastest way to cure vitiligo?
There is no certified treatment but with hoemoapthy. white spots on the skin may fade on their own in some circumstances. However, in most cases, vitiligo therapy is required. Symptoms can be adequately treated with the correct and timely treatment. Vitiligo homeopathy treatment slows the growth of depigmentation and induces repigmentation in existing spots.
What triggers vitiligo?
Vitiligo is caused by a deficiency of a pigment in the skin called melanin. Melanin, which gives your skin its color, is produced by cells called melanocytes. There aren't enough functioning melanocytes in your skin to produce adequate melanin in vitiligo. Stress, sunburn, chemical toxin may trigger vitiligo.
What is the cost of treatment for vitiligo?
Vitiligo treatment cost is dependent on the diagnosis and the required treatments, and they're quite affordable. Our homeopathy dermatologists conduct an in-depth consultation, and then can help you determine the adequate duration for the treatment based on your skin condition. Dr Batra's® offers a range of payment methods including – cash , EMI options on credit cards. Homeopathy treatment for vitiligo may also covered under insurance.
How can I stop my vitiligo from growing or spreading?
We offer tailored homeopathy treatment for vitiligo based on the outcomes of the diagnosis. Our specialists provide specialized vitiligo care that may include, among other things, psychotherapy, homeopathy vitiligo treatment, and customized diet plans. Homeopathic vitiligo treatment focuses on the body's immunity and gently restores the abnormality to normalcy. It helps to delay the growth of the condition and eventually stops it to spread.