HOMEOPATHY TREATMENT FOR ALOPECIA AREATA
Alopecia areata is an autoimmune condition, it is a causative factor for hair loss and can happen at any age. Small, rounded patches of baldness on the head are a result of this condition. The immune system targets the hair follicles in this auto-immune condition, causing damage and hair loss on the scalp, eyebrows, eyelashes, limbs, face, and other areas of the body as well.
According to a study published, by science direct, UAE adults between the age range of 20 to 40 commonly suffer from alopecia areata. According to experts, alopecia affects both men and women, and the early stages of the condition sometimes go unnoticed.
Types of Alopecia Areata
There are three major types of Alopecia Areata where hair loss occurs in three different patterns.
Alopecia Areata (Patchy)

The coin-sized (often round or oval) spots on the scalp or other parts of the body where hair grows are known as alopecia areata (patchy). Although this type has the potential to progress into either alopecia totalis or alopecia universalis.

Alopecia Areata Totalis

Alopecia areata totalis results in complete baldness due to the total loss of hair on the entire scalp. Small patches of hair loss on the scalp are the first symptoms of the disorder, which worsens over time until the entire head is bald. This type of alopecia areata may kind may start unexpectedly and without prior notice.

Alopecia Areata Universalis

Alopecia areata universalis is the most uncommon type of alopecia areata, causing hair loss throughout the entire body and scalp. This serious condition impacts the chest, armpit, and even eyelashes and eyelashes hair. Although alopecia is not painful, it can have a significant physical and emotional impact on the patient. Particularly in youngsters, alopecia can be quite upsetting and frustrating.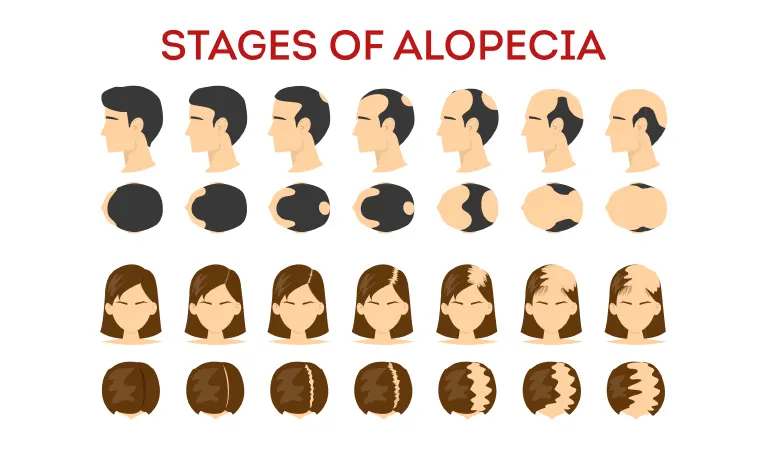 Signs And Symptoms Of Alopecia
The very first symptoms of alopecia is sudden, severe hair loss. The common alopecia areata warning signs and symptoms are detailed below and should not be neglected.
Noticeable hair loss on the pillow, hair brush, and shower
Hair loss occurs on the face, over the eyes, and in other parts of the body
Severe hair loss in winter
Patches of baldness fill up as new ones appear.
The nails on your fingers and toes turn red, brittle, and pitted.
Causes of Alopecia
According to the National Center for Biotechnology Information (NCBI), 8.6% of adult alopecia patients have a family history of hair loss. It is an autoimmune condition alopecia areata develops when the body's immune system destroys the hair follicles, leading to hair loss. This type of hair loss can be caused by a person's genetic composition as well as external circumstances.
Many factors and underlying health conditions cause alopecia areata such as:
Hormonal changes
Shock or Emotional/physical stress
Thyroiditis
Atopic dermatitis (also known as eczema)
Diabetes
Homeopathy Treatment For Alopecia
Homeopathic alopecia treatment in Dubai offers the most effective solutions for patchy hair loss problems. It is natural, effective and safe, and personalized for each patient based on their medical history, the underlying cause of hair loss, the severity and level of their baldness.
The body's immune system is strengthened to promote healthy hair growth. It doesn't contain any hormones or other ingredients that can eventually affect your body. Homeopathic medicines provided at Dr Batra's® clinic in Dubai greatly support the re-growth of hair and effectively control the spread of bald spots.
According to a study by the National Center for Biotechnology, natural ingredients like Thuja Occidentalis and Sabal Serrulata are very effective in alopecia areata treatment. The natural DHT [dihydrotestosterone]-inhibitors are well known for their hair growth properties.
It's important to know your treatment options because dealing with alopecia can be depressing. A person's hair is their strongest physical trait. It's important to maintain healthy hair because it may make or break your image.
Our homoeopathic trichologist at our clinics in Dubai will conduct a video-microscopy test and then create a customized hair loss treatment using the medical science of homeopathy. Homeopathic treatment for alopecia along with clinically validated international aesthetic treatments is more affordable. The process is painless, safe, and effective. As a result, it helps you save money and time compared to using other conventional practices.
Benefits of Homeopathy
Safe
Effective
No Side Effects
Natural
Treats The Root Cause Of The Condition
Non-Addictive
Why Dr Batra's®
Dr Batra's® Healthcare is well-known and people trust it for its all-natural, non-invasive, and non-surgical hair loss treatments. Dr Batra's® has successfully treated over 600,000 hair patients. A natural, painless, safe, and long-lasting treatment is provided by combining the benefits of homeopathy with globally renowned hair-advanced treatments at our clinics in Dubai.
Before choosing alopecia treatment keep in mind that hair loss is a problem that needs a correct diagnosis and personalized treatment. It is crucial to consider your hair and scalp's health, your degree of baldness, safety, and other treatment benefits while choosing an alopecia treatment.
Our homeopathic hair specialist at Dr Batra's® homeopathy clinics in Dubai will conduct a video-microscopy test and then develop a personalized alopecia treatment using the medical science of homeopathy.
Homeopathy, along with scientifically approved aesthetic hair treatments, gets enhanced results. We offer lifestyle and nutritional advice for the patient's overall health, together with homeopathic alopecia treatment.

A Revolutionary South Korean treatment that uses International hair serum to promote hair growth and improve hair density by restoring hair cell multiplication
Restores hair growth follicles
Repairs scalp tissues
Thickens hair strands
Improves hair volume

A Nobel prize-winning French Technology that uses Advance Hair Serum to improve hair volume and stimulate hair growth
1st needless Meso Therapy
Improves hair regrowth
Increases hair density
Controls hair fall

A New Gen Hair Technology that uses Atmospheric Oxygen to cleanse & nourish the scalp, which furthermore opens the scalp pores for better medicine penetration
Controls hair fall
Strengths hair strands
Re-energizes hair follicles
Combats hair loss

US - FDA-approved hair treatment that uses homeopathic ingredients that encourages hair follicle growth and promotes healthy hair
Controls Hair fall
Re-energizes Hair follicles
Combats hair loss
Know more about our International Hair Treatment
FAQs
When Does Alopecia Areata Usually Begin?
If A Parent Has Alopecia Areata, Will A Child Get It?
Is There Any Effective Treatment For Alopecia?
What Are Areas Of The Body Affected By Alopecia?
Does Stress Induce Alopecia?