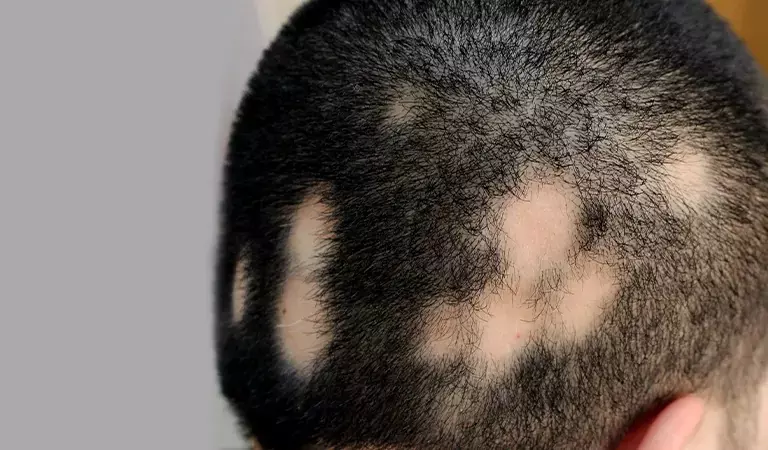 How to stop alopecia areata from spreading naturally
Posted by
Dr Batra's™ February 9, 2022
Are you wondering what went wrong that your hair suddenly fell out? Alopecia areata could be the cause of your hair loss. It has now become a widespread issue among both men and women. According to the National Center for Biotechnology Information (NCBI), alopecia areata affects 2% of the world's population.
It is an autoimmune condition that incorrectly attacks healthy cells in the body. Alopecia areata affects your head in general, causing baldness.  However, it can also result in hair loss or a change in hair patterns on the brows, arms, legs, or any other hairy regions of the body.
Hair loss can be caused by a variety of factors, including hormone replacement treatment, steroids, and certain medications, to mention a few. So, if you have alopecia and are looking for ways, to stop alopecia areata from spreading naturally, we have a solution for you. Here are a few natural methods for increasing hair growth and strengthening hair follicles.
Essential Oils
In double-blind placebo-controlled research by the National Center for Biotechnology Information (NCBI), 86 patients with alopecia areata were given a mixture of essential oils and placebo oil. The essential oils of thyme, rosemary, lavender, and cedarwood were blended with jojoba and grapeseed carrier oils. The mixture was then applied to the scalp daily, while the control group merely used the carrier oil for their daily massage.
The trial lasted seven months, and after that time, 19 of the 43 persons (44 percent) who took the essential oil mixture showed development of the hair on their scalps, compared to only 6 of the 41 people (15 percent) in the control group.
Onion Juice
A dermatology study published on the Researchgate tested the effectiveness of onion juice to placebo on a test group of patients with alopecia areata. 23 of the patients being tested were instructed to apply onion juice to their scalp twice daily for two months, while the other 15 were instructed to apply water twice daily for two months.
The study found that after two weeks of applying the remedy, participants in the onion juice test group began to grow hair, and by four weeks, 17 of them (73.9 percent) had begun to exhibit some hair growth. Then, by the sixth week, a total of 20 of the patients (86.9 percent) in the onion juice test group had also shown hair growth. It was found that men had more hair growth in the experiment group than women and at the end of the entire 8-week trial.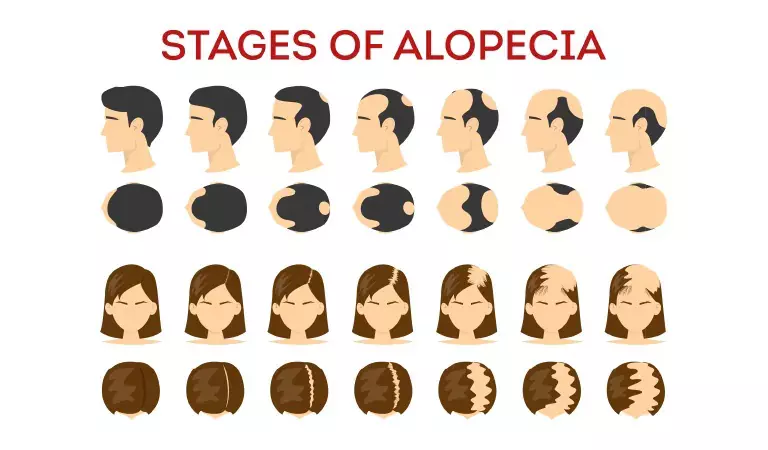 Evaluate the current state of your hair condition. Take the Hair Loss Evaluation Test Now!
Conventional treatments
Conventional treatments are typically topical medications that you can apply to your scalp to stimulate hair growth. Immunosuppressants in the form of oral pills are used to promote hair growth. The medications work on immune cells to free the hair follicles from the clutches of the immunological onslaught.
Conventional treatments, on the other hand, carry the danger of serious side effects that can impair the functioning of your body's key organs. As a result, it is best to select the natural and safest solutions, such as homeopathic treatment for alopecia areata.
Homeopathic treatment
In contrast to conventional topical treatments or injections, which raise the possibilities of chemical burn and scarring of the affected area, which is permanent damage that cannot be reversed, alopecia areata treatment in homeopathy is safe and has no side effects. Alopecia areata treatment in homeopathy improves the general quality of life and successfully deals with stress.

Also Read: Alopecia Areata Treatment in Homeopathy
Also Read: How to Mentally Overcome Alopecia Areata?
One of the most effective methods for patchy hair loss is homeopathic treatment. Homeopathic remedies considerably promote hair regrowth and efficiently reduce the spread of bald areas. According to a study conducted by the NCBI, natural substances such as Thuja Occidentalis and Sabal Serrulata, are particularly efficient in the treatment of alopecia areata. Natural DHT [dihydrotestosterone]-inhibitors are widely known for their ability to promote hair growth. Homeopathic remedies boost the immune system's effectiveness, allowing it to fight back more effectively.
Homeopathic treatment does not suppress symptoms to provide temporary relief but rather targets the underlying cause of alopecia. Homeopathic remedies are suitable for people of all ages and stages of life, including pregnant and lactating women.
Dr Batra's® has treated over 600 thousand hair patients, and our homeopathic doctors are well-versed in alopecia areata. Dr Batra's® achieves the best outcomes by integrating cutting-edge technology with homeopathy. Our homeopathic trichologist consults provide you personalized treatment. This treatment combines homeopathic remedies with dietary and lifestyle recommendations to provide comprehensive care.
Our homeopathic doctors understand the emotional anguish that alopecia areata patients go through. In addition to giving treatment, we guide you on how to deal with and manage this hair condition.
Also Read: Factors responsible for causing Alopecia Areata
Also Read: Can alopecia areata be treated?