Homeopathy Treatment For Hair Fall
Hair is an important aspect of our identity and physical appearance. When one's hair falls out, it affects one's self-esteem and confidence. Therefore, it is necessary to find an answer to the question of which hair fall treatment is best to stop hair loss
Hair loss is a natural part of the aging process, but for some, it is a source of grief. Most people suffer from severe hair loss due to a stressful lifestyle, a lack of nutrition in their diet, family history, and other factors.
It's important to understand how much hair loss is normal and how much is excessive hair loss. According to the National Center for Biotechnology Information (NCBI), it is normal to lose 50-100 hair strands per day. However, if you're losing more hair than usual, it could be a sign of hair loss.
Types of Hair Fall
Hair Loss impacts individuals' quality of life psychologically and physically. Identifying the type of hair loss is necessary before choosing the right hair fall treatment. The following are the most common types of hair fall
Androgenetic Alopecia
Telogen Effluvium
Anagen Effluvium
Alopecia Areata
Tinea Capitis
Cicatricial Alopecia
Evaluate the current state of your hair. Take the Hair Loss Evaluation Test Now!
Causes of Hair Fall
One or more of the following factors are commonly linked to hair fall:
Hormonal changes
Medical conditions
Medications
Family history
Trauma
Poor nutrition and diet
Stress
Childbirth
Genes
Age
Harmful chemicals in hair care products.
Symptoms of Hair Fall
Hair loss can occur in a variety of ways, depending on the cause. It can strike suddenly or slowly.
The following are some of the signs and symptoms of hair loss:
Gradual thinning:
The most common symptom of hair loss that occurs as people age. In men, hair begins to recede near the hairline on the brow. In most cases, women's hair has a widening of the part at the top of the scalp.
Sudden hair loss:
Hair loss can occur as a result of physical or mental trauma. A few strands of hair may fall out when combing or washing your hair, or even after light tugging. Hair thinning is also common.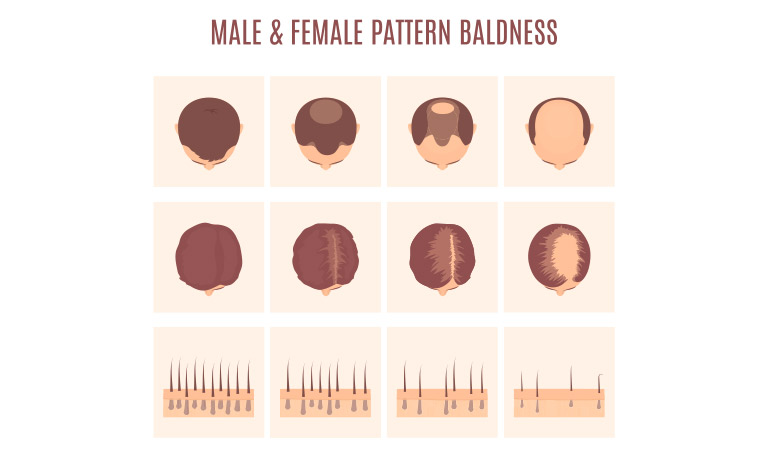 Male Pattern Baldness and Female Pattern Baldness
According to the National Library of Medicine (NLM), male pattern baldness affects more than 50% of all men over the age of 50 years. Male pattern baldness is defined as a receding hairline and thinning hair on the crown of the head. It is the most common type of hair loss in men and is also known as androgenic alopecia.
Women can also experience hair thinning or severe hair loss. According to a study by the National Institutes of Health (NIH), female pattern hair loss (FPHL) is most common in women in their 50s and 60s.
Pattern hair loss becomes more common as you age. Those who are affected may experience psychological distress as well as sociological distress.
Homeopathy Hair Fall Treatment
Homeopathy is the most effective natural treatment for hair loss. Homeopathy medicine for hair fall is derived from natural ingredients and hence does not harm your hair or your health in any way. It is therefore a perfectly safe way to treat a hair fall problem.
Homeopathy has several remedies for hair loss depending on the cause of the condition. A skilled homeopath thoroughly examines a patient's case history to determine the underlying cause of their condition and, after examining the causes, prescribes an appropriate homeopathic remedy.
Homeopathic hair fall treatment is well-known for being natural, safe, and free of side effects. It aids in the treatment of hair loss from the root. According to a study conducted by The National Center for Biotechnology Information (NCBI), Thuja, a homeopathy medicine, promotes hair growth. It induces the anagen phase in inactive hair follicles. It is thus the ideal solution for all of your hair issues.
Effective Hair Fall Treatment at Dr Batra's®
Before you choose a hair fall treatment, keep in mind that hair loss is a problem that necessitates a tailored treatment plan. The state of your hair and scalp, as well as the severity of your baldness, safety, and other benefits of the treatment, must all be considered when choosing a hair fall treatment.
At Dr Batra's®, our homeopathy trichologist will do a video-microscopy test and then create a customized hair fall treatment plan based on homeopathy's medical science.
Dr Batra's® has successfully treated over 600 thousand hair patients. Along with homeopathic treatment, we also provide lifestyle and hair care advice for the patient's overall health.
Combines Goodness Of Homeopathy
FDA Approved
Painless
No Side Effects
Promotes Hair Growth
Prevent Hair Breakage
Cost Effective
20 Minutes Procedure
Results in 10 Weeks
FAQs
Which treatment is best for hair fall control?
How can I permanently treat hair loss?
How is Dr Batra's® hair fall treatment different from other treatments?
Does the homeopathic treatment have any side effects?
How effective is Dr Batra's® Hair Fall Treatment?
How much does Dr Batra's® Hair Fall Treatment cost?
What are the consultation fees at Dr Batra's®