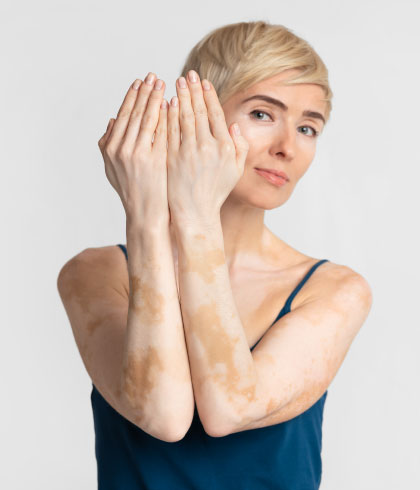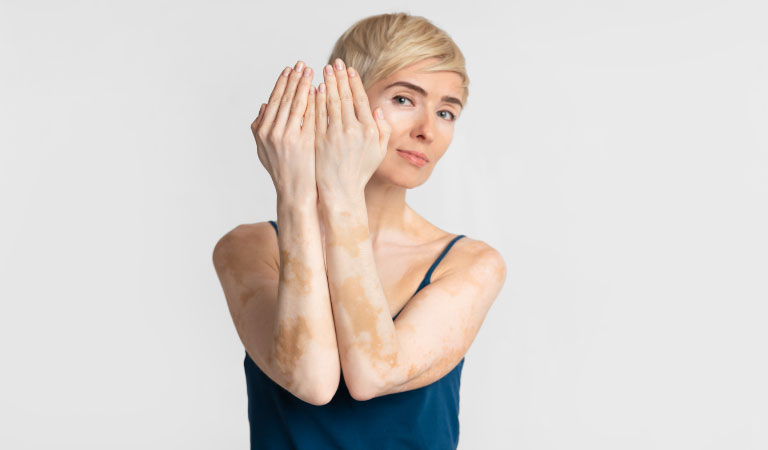 What are the internal and external causes of vitiligo and the best treatment for vitiligo?
Posted by
Dr Batra's™ June 17, 2021
Vitiligo is an autoimmune skin condition that causes white patches to appear on the skin. According to the American Academy of Dermatology, vitiligo affects between 0.2 to 2% of the world's population. Vitiligo is uncertain and unpredictable. The visible white patches on skin often impact a person's self-esteem and give rise to emotional and mental stress. However, homeopathy's holistic approach is the best treatment for vitiligo as it is aimed at the complete well-being of the patient.
You may experience loss of skin colour in various areas of the body but the first signs of vitiligo are noticed in the areas that are most exposed to the sun. Some people experience vitiligo patches in a symmetrical pattern. For example, if the right arm is affected your left arm is more likely to be affected too. On the other hand, some may experience depigmentation on different areas such as the mouth, scalp, eyelash, eyebrows or hair. The progress of this skin disease varies from person to person. In most cases, a combination of factors cause white patches on skin. Let's look at some of the internal and external factors that can increase the risk of vitiligo:
Family History: Autoimmune diseases generally have a genetic component but it remains unclear. While the immune system is majorly responsible, genetics or family history of other auto-immune diseases can also increase the risk of white patches.
Environmental Factors: This is when something in the environment is setting off an immune response. Exposure to the sun, certain chemicals or injury to the skin can further trigger the destruction of melanocytes and prompt the spread of vitiligo.
Existing Medical Condition: People suffering from other autoimmune or medical conditions are at an increased risk of developing vitiligo. History of diseases such as psoriasis, alopecia areata, diabetes, rheumatoid arthritis can increase the risk.
Also read: https://www.drbatras.ae/vitiligo-when-skin-loses-its-pigmentation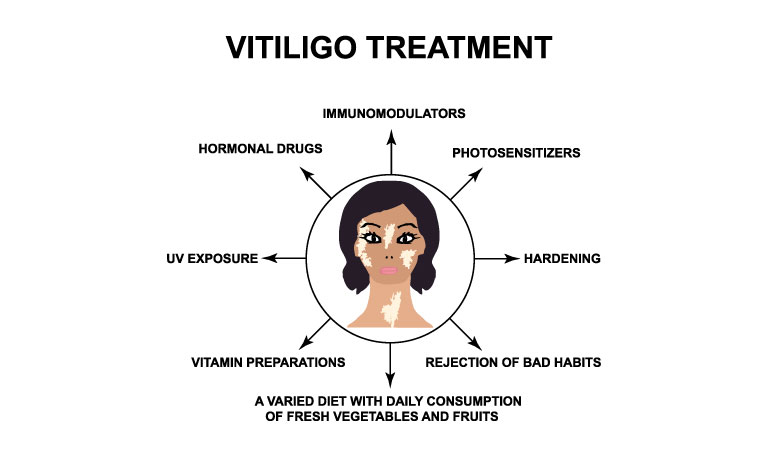 Choosing the best treatment for vitiligo
The treatment options vary according to the severity of your condition. Commonly, vitiligo is treated with oral medications, steroid creams, UV therapy or micro tattooing. However, not all methods of treatment may work for you as the underlying cause differs from person to person. While vitiligo may seem difficult to control, it is not impossible. The best vitiligo treatment is one that is safe, scientific and effective. Homeopathy does exactly that, it helps to target the root cause of the ailment. Homeopathic treatment helps to enhance your immune system so that your body can fight infection on its own.
Homeopathy has proven its efficacy in treating vitiligo. In a study published in the International Journal of Women's Dermatology, 14 patients were treated with individualized homeopathic medicine for vitiligo. In this study, homeopathy showed effective results when started in the early stages of their skin disease.
Find the best treatment for vitiligo at Dr Batra's® clinic
Homeopathic treatment helps to limit the spread by slowing down the destruction of melanocyte skin cells. It also stimulates re-pigmentation in the most natural, safe and effective way. Homeopathy helps to manage its effect on your daily life and help the skin return to normalcy. At Dr Batra's®, the homeopathic skin specialist uses the medical science of homeopathy to understand the patient's physical, emotional and psychological symptoms.
Also read: https://www.drbatras.ae/is-vitiligo-permanent-how-to-treat-vitiligo
After undertaking the patient's detailed case history the best treatment for vitiligo is planned out. This treatment plan includes homeopathy medicines, an efficient diet and skin care tips, making it the best treatment for vitiligo. With over 35 years of experience, Dr Batra's® is a trusted name in treating skin problems. You too can find the perfect solution to all your skin problems. Book an appointment today.
Also read: https://www.drbatras.ae/is-vitiligo-permanent-how-to-treat-vitiligo
Also read: https://www.drbatras.ae/5-facts-you-didnt-know-about-vitiligo
Take the Vitiligo Evaluation Test Here https://www.drbatras.ae/vitiligo-eval-test