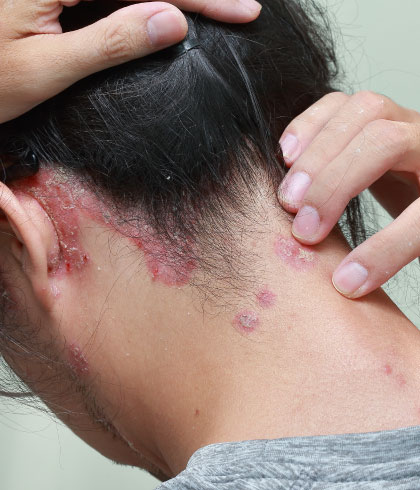 Scalp Psoriasis: Is there any cure for psoriasis in homeopathy
Posted by
Dr Batra's™ June 17, 2021
When you think of psoriasis, you probably think of red, irritated skin but it goes much deeper than that. Even though it affects the skin, psoriasis actually begins inside your body and causes many physical and emotional symptoms. It occurs when the immune system overproduces new skin cells and attacks normal tissues in the body. Scalp psoriasis is a chronic autoimmune skin disorder. Scalp psoriasis can also extend to a person's forehead, ears and back of their neck. The course of psoriasis is unpredictable and long-term. At times the lesions can be painful, itchy and bothersome. However, homeopathic scalp psoriasis treatment can help you get clearer-looking skin in the most gentle and safe way.
Scalp psoriasis is identified as red patches on the skin that are typically covered with silvery flakes. It can be often confused with seborrheic dermatitis or severe dandruff. While there are various types of psoriasis, scalp involvement can also lead to hair loss and cause hair thinning.
Also Read: https://www.drbatras.ae/can-scalp-psoriasis-cause-hair-loss
Also Read: https://www.drbatras.ae/dandruff-vs-dry-scalp-the-difference-and-causes
Scalp psoriasis is often treated with shampoos, topical ointments or steroid solutions. Due to the high chances of recurrence, in most cases scalp psoriasis treatment is a lifelong process. While for some, over-the-counter treatments may or may not work; talking to a skin expert can help you determine the best psoriasis treatment for you.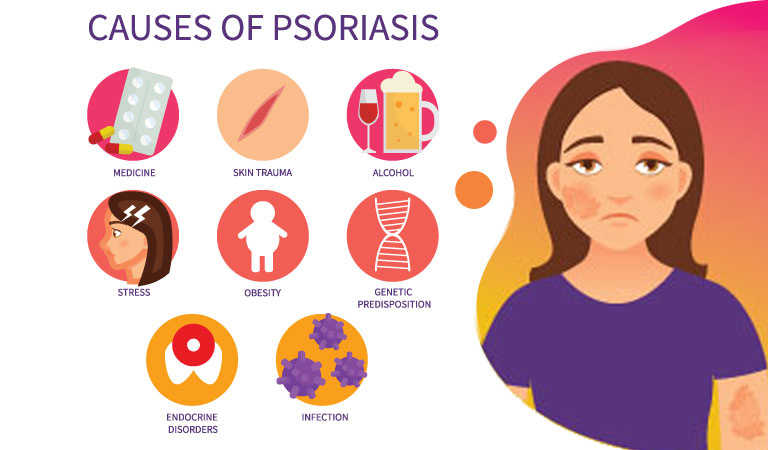 The triggering factors of scalp psoriasis can differ from person to person. In addition, if you have scalp psoriasis, you may also suffer from other psoriasis types such as psoriatic arthritis. It is therefore important to understand the underlying cause and treat the ailment from the root. As there isn't a single solution to keep the symptoms of psoriasis at bay, psoriasis treatment in homeopathy uses an individualized approach. Depending on the severity of your condition, the homeopathic expert prescribes an individualized treatment plan.
Homeopathic Psoriasis treatment is scientific, side-effect free and provides long-lasting results. It helps to enhance your immune system so that your body can fight infection on its own and minimize the chance of recurrence. Homeopathy also helps to manage the underlying trigger factors of scalp psoriasis such as stress, depression, infections or others. According to a clinical research study conducted in the UK and Germany, up to 97 % of psoriatic patients treated with homeopathy showed a distinct improvement, with no side-effects.
Scalp Psoriasis Treatment at Dr Batra's® Clinic
Homeopathic treatment helps to reduce scaling, limits the spread and the reoccurrence of the skin disease. It also reduces hair loss in patients with scalp psoriasis and protects the body from the possible side-effects of the conventional treatment. Homeopathic scalp psoriasis treatment helps to slow down the rapid growth of skin cells and promotes healing of the skin. At Dr Batra's®, the homeopathic doctor uses the medical science of homeopathy to understand the patient's physical, emotional and psychological symptoms. The homeopathic doctor undertakes an in-depth consultation and devises a unique treatment plan to control scalp psoriasis. This psoriasis treatment plan incorporates homeopathy medicines, an efficient diet and skin care tips to effectively manage psoriasis. With over 35 years of experience, Dr Batra's® is a trusted name in treating skin problems. To get effective, natural and long-lasting solutions for your skin problems, book an appointment with us: https://www.drbatras.ae/book-an-appointment
To know more read: Debunking the myths of psoriasis
Also Read: https://www.drbatras.ae/living-with-scalp-psoriasis-and-ensuring-it-doesnt-rule-your-life