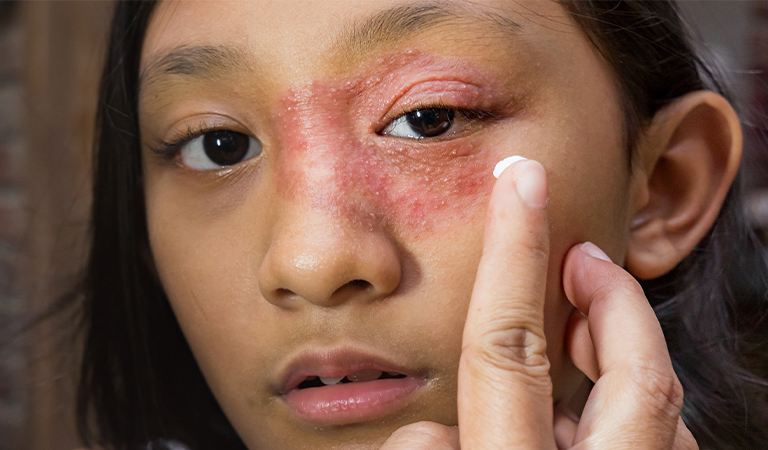 What are the treatments for infected eczema?
Posted by
Dr Batra's™ July 5, 2021
When you or a loved one has eczema, the amount of effort that goes into trying to avoid flare-ups and infections can be overwhelming. Eczema or dermatitis is a common skin condition. It is characterized by inflamed, dry and itchy patches of skin. While children are more prone to eczema, it can affect adults too. Early consultation with an expert homeopath can help treat eczema and its symptoms more effectively.
This skin condition is common in people who have a family history of eczema, hay fever or asthma. Eczema is caused by a combination of factors such as overreacting immune system, genetics, environmental triggers and stress. It can also impact your mental health. Studies suggest that adults who experience eczema have a significantly higher rate of anxiety and depression than those without eczema.
Eczema damages the normal functioning of the skin, this loss of functioning makes your skin more sensitive and prone to infections. If left untreated, it can lead to further complications. Generally, eczema can become infected when a virus, bacteria or fungi gets into the open wounds of an eczema rash. It is therefore important to understand the signs and symptoms, and what treatment options are available.
Common symptoms of infected eczema include:
Swelling and burning sensations

Severe itchiness

Blistered skin, boils or cysts

Fluid (white or yellow pus) coming out of skin or crusts

 

In more severe cases, you may also have flu-like symptoms that include high-temperature fever, body aches or fatigue. If you experience any of these symptoms, seek immediate medical intervention.
How to manage infected eczema?
The eczema treatment options depend on the type of infection. For example, antiviral medications can help in the case of an infection caused by a virus. Similarly, bacterial infections can be treated using oral or topical antibiotics. Steroid creams are often prescribed to reduce swelling, redness and rashes. Lifestyle changes can also reduce the likelihood of an eczema flare-up. Ideally, for long-term relief, the goal of any eczema treatment should be to gain overall control of the disease.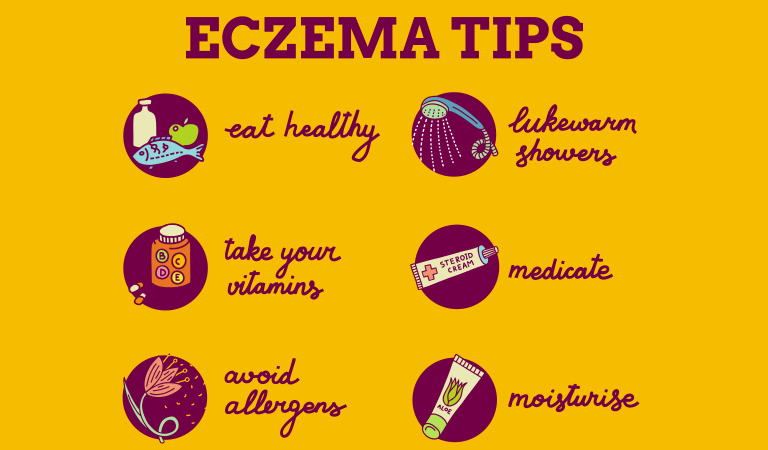 Despite precautions, you might still experience frustrating patches that keep reoccurring. Therefore, it is best to visit a homeopathic skin expert and treat the problem from the root. For lasting results, homeopathic medicines help enhance the body's immune response without any side effects
Homeopathic Eczema Treatment
Homeopathic medicines are safe, natural and effective. According to the study published in the Journal of the faculty of homeopathy, 42 patients with atopic dermatitis showed improvement with the use of homeopathic medicines. The study concluded that homeopathic treatment can be regarded as an effective choice for patients suffering from dermatitis.
Also Read: Atopic Dermatitis & Homeopathy
Eczema treatment in homeopathy is safe and scientific. It does not suppress the symptoms but helps to correct the problem from the root. It also helps to reduce the intensity of complaints and the chance of recurrence. Homeopathic medicines help to restore the skin's protective barrier and the lost confidence in you.

More Resources on Eczema
Treat eczema without any side effects
At Dr Batra's® homeopathic eczema clinic in Dubai, the skin expert conducts an in-depth consultation to devise an individualized treatment plan. This treatment plan includes homeopathic medicines for eczema, lifestyle and skincare tips for the complete well-being of the patient. Consult our homeopathic skin expert to determine the best eczema treatment and know the preventive action to keep infections away. Book an appointment: www.drbatras.ae/book-an-appointment.
Also read: Eczema triggers you must avoid
What is The Best Treatment for Scalp Eczema?
Also Read - https://www.drbatras.ae/what-is-the-best-treatment-for-scalp-eczema
Also Read - https://www.drbatras.ae/what-is-the-best-way-to-treat-chronic-eczema