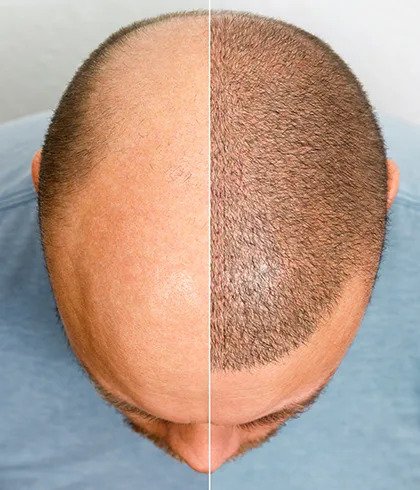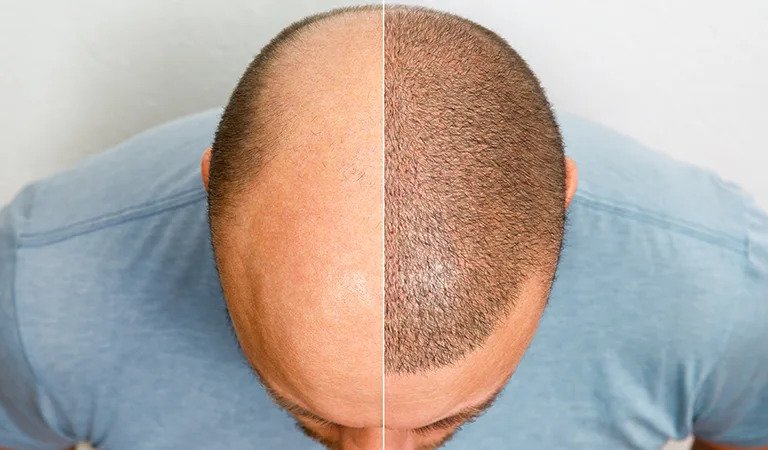 What are the early symptoms of baldness?
Posted by
Dr Batra's™ April 19, 2022
Unexpected hair loss is unpleasant, but it doesn't have to be. Baldness has often been linked to embarrassment, a lack of self-confidence, low self-esteem, and increased self-consciousness. According to a study conducted by The National Center for Biotechnology Information (NCBI), bald individuals are more vulnerable to mental health issues such as depression and anxiety. It is critical to consult a dermatologist as soon as you notice hair loss to determine the best treatment plan to help you regain your lost hair and confidence.
Before you do, let's understand baldness and some early symptoms of hair loss to keep an eye out for.
What exactly is baldness?
Hair loss, or baldness, is the absence of hair. Androgenetic alopecia also commonly known as female or male pattern baldness, is usually referred to as "balding." Baldness is most evident on the scalp, although it can occur everywhere that hair grows on the body.
Is it possible to spot early signs of hair loss?
Detecting early signs of hair loss can be challenging, but all that is required is a keen eye for any major changes in the hairline and hair volume. Hair thinning usually begins around the temples and crown of the head for men.
Women do not lose all of their hair, visible thinner hair; particularly a widening section on the top of the head and thinner ponytail are signs of hair loss. If you observe excessive hair loss, consult a trichologist to avoid further hair loss.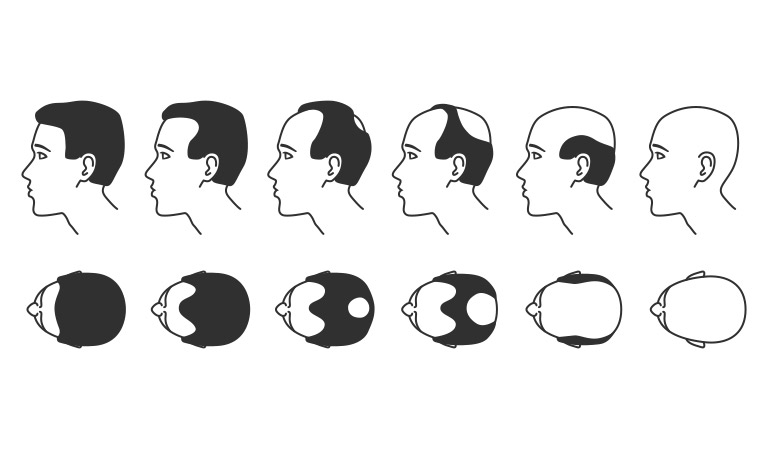 What causes hair loss or balding?
The most common cause of baldness is androgenetic alopecia. In men, it's known as male pattern baldness. In women, it's known as female pattern baldness. According to the American Hair Loss Council, it is responsible for 95 percent of cases of permanent hair loss.
Other hair fall reasons:
Autoimmune conditions
Stress
Lack of vitamins
Family history
Hormonal changes
What are the early signs of baldness or hair loss?
Understanding the signs and symptoms of baldness might help you take prompt action. It's important to remember, however, that the symptoms may appear suddenly or take some time to manifest and become obvious.
Excessive hair strands on the pillow or in the shower - Check the amount of hair on your pillow or in the bathroom drain the next time you wake up or right after you take a shower. A few strands of hair fall out naturally.
According to the American Academy of Dermatology (AAD) losing 50-100 hair strands daily is normal, but if you find huge clumps all over, it's a sign of excessive hair loss.
Noticeable change in your hairline — Take a look at some of your recent photos to check if your hairline has changed. The beginning of a receding hairline is usually around the temple area.
Noticeable hair thinning - This symptom might affect your entire scalp or specific sections such as the crown and temple areas.
Noticeable bald spots – Alopecia areata causes hair loss, primarily on the scalp. The moustache, beard, eyebrows, and any other hairy area of the body may also be affected by this condition.
You notice excessive hair strands on combs - If you see large clumps becoming caught after every brushing session, you may be experiencing severe hair loss.
Can homeopathy treat baldness?
Yes, homeopathy can help with baldness and has no side effects. The goal of homeopathy treatment is to address the root cause of a condition rather than just the symptoms. It helps the patient to recover from the inside out. Homeopathy treatment is a holistic approach, with long-lasting and effective outcomes.
According to Scottish research study, 90% of people who suffered from hair loss selected homeopathy as their first treatment option. This is since homeopathy can slow the progression of bald patches and fill in sparse hair areas with new hair, leading to a complete recovery in a majority of cases.
As per a study by NCBI, homeopathic medicines such as Thuja Occidentalis and Sabal serrulata are natural DHT-inhibitors and can control hair loss caused by DHT (dihydrotestosterone) also promote hair growth.
Why Dr Batra's®?
Dr Batra's® has successfully treated over 600 thousand hair patients, with the winning blend of Homoeopathy, Trichology, and Technology. Our team of expert homeopathic trichologists assess
the patient's medical history, temperament, and level of hair loss. The homeopathy hair treatment is designed to enhance hair growth also minimize hair loss.
Dr Batra's® Hair Vitalizing Treatment which is FDA-approved can work wonders as a supplementary treatment along with homeopathy remedies to strengthen and revitalize your hair.