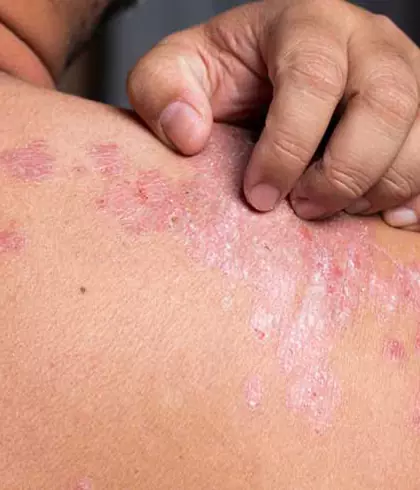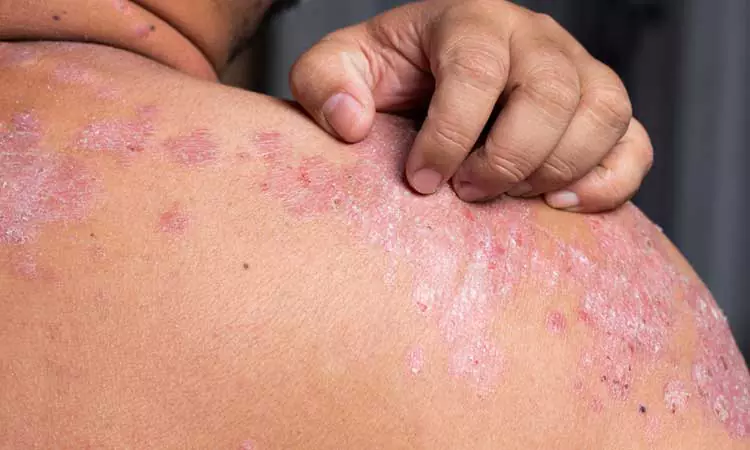 SCOPE OF HOMEOPATHY IN TREATING PSORIASIS!
Posted by
Dr Batra's™ July 7, 2020
Being a doctor you come across many cases and when you are a homoeopath you will see all kinds of skin cases which are not treated well with the conventional medicine.
Patients generally give a history of applying numerous ointments and taking antihistamines to prevent the skin diseases they have. So, it is a part and parcel of a Homoeopath's life as every patient has the same history!
There are times when you come across rare cases. A guy came to me and said, "I will give whatever you want." I was astonished to hear this! I gave him a confused look and he said, "You do not know how that itch feels doctor and no one will ever realize what mental stress I am having because of it."
Gently, I asked him to tell me what he was going through. In no time I saw red scaly patches all over his back! It was psoriasis and a second thought came to my mind, was he the same guy whose picture was printed on my dermatology textbook?
I have treated many cases with moderate psoriasis but he came as a challenge to me. Like a good physician, it is my responsibility to help my patients live a disease-free life and I am blessed that I get to treat my patients with nature's way that is through homoeopathy.
HOMOEOPATHY FOR PSORIASIS
Psoriasis is a recurring inflammatory skin disorder. People with psoriasis develop skin rashes, scaly patches, and other skin changes. Psoriasis is an autoimmune disease which aggravates from stress, anxiety, injuries to the skin, infections, and hormonal changes.
Homoeopathic treatment of psoriasis is based on various factors like the location of patches, modalities of psoriasis and so on. The main motive of psoriasis treatment is to treat patients completely as psoriasis affects mental health as well.
The remedy is chosen on the basis of the constitution so that psoriasis does not flare up when symptoms change due to some reason. Homoeopathy helps to reduce the intensity of the complaints gently and increase body immunity and stimulate the body's own healing process. Clinical research studies conducted in the UK and Germany show that 81-97% psoriatic cases treated with homoeopathy showed distinct improvement, with no side effects.
The symptoms of psoriasis gradually decrease if the remedy is well selected. The itch, redness and soreness improve and the appearance too. This not only heals the patient physically but mentally as well. It is seen that many people suffering from psoriasis end up having depression.
Arsenicum album, Graphites, Petroleum, Sepia and Sulphur are the commonly used homeopathic medicines for psoriasis.
Along with this one should also take good care of one's diet and include fish oil, vitamin D, and aloe vera juice in your diet.
Try meditation to take away all your stress.
One can also think of light therapy under the supervision of a doctor.
Avoid long hot showers as it inflames the skin more and makes it worse.
Avoid tobacco and alcohol.
Dab your skin with a smooth towel and do not rub it harshly as it can aggravate your condition.
Also, it is important to know it is not contagious. So, lean on your loved ones and give them the emotional support by being their stress buster.

So, what happened to that patient who was ready to give me anything if I treated his psoriasis? The good news is that I was able to treat his psoriasis; he healed physically as well as emotionally. Homoeopathy has a lot to offer, it can simply transform lives and thankfully I get to see this very often, how magical white pills do miracles.
In turn, I got his happiness and blessings! After all that's all one needs at the end of the day.
https://www.drbatras.ae/what-is-psoriasis-and-treatment-for-psoriasis-psoriatic-arthritis - Also Read
https://www.drbatras.ae/how-to-stop-psoriasis-from-spreading - Also Read
https://www.drbatras.ae/debunking-the-myths-of-psoriasis - Also Read
https://www.drbatras.ae/symptoms-and-triggers-of-psoriasis - Also Read
https://www.drbatras.ae/psoriasis-or-eczema-whats-the-difference - Also Read