Fri 03, Apr 2009
Homeopathy can treat Piles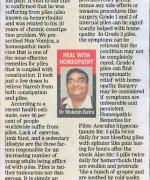 Homeopathy can treat Piles
Thirty-five year old Naresh suffered , from excruciating pain in the rectum for hours after passing stool. At times, he also passed blood along with stool. Long hours of sitting at work further aggravated his pain. A visit to our clinic confirmed that he was suffering from piles (also known as hemorrhoids) and was related to his 10 years of chronic constipation problem. We prescribed Nux Vomica, a homeopathic medicine that is one of the most effective remedies for piles that is coupled with constipation. It took just a few doses to relieve Naresh from both constipation and piles.
According to a recent health estimate, over 40 per cent of people worldwide suffer from piles. Lack of exercise, junk fund, and a sedentary lifestyle are the three factors responsible for an increasing number of young adults being afflicted with piles. Piles is neither tumourous nor dangerous. It is simply an enlarged / engorged blood vessel(s) of the anus.
Piles may cause symptoms like bleeding, itching, pain and a lumpy feeling in the anus. Embarrassment causes most piles patients to suffer in silence rather than seek medical help. They only go to the doctor when the pain becomes unbearable and the condition so severe that it usually requires surgery. Early treatment can easily help cure or prevent the disease From progressing into complications.
Homeopathy is highly recommended for the management of piles and its symptoms of pain, bleeding, itching and so on. It provides relief gently, minus any side effects or invasive procedures like surgery. Grade 1 and 2 of internal piles can be significantly helped with homeopathy. In Grade 3 piles, the symptoms can be relieved but the condition may not be completely cured. Grade 4 piles can find symptomatic relief with homeopathy. Surgery may be considered if symptoms are unbearable and persistent. Homeopathic Remedies for Piles: Aesculus hippocastantun 30c: 5 pills twice lady for non bleeding piles with splinter like pain lasting for hours after the stools Aloe 30c: 5 pills twice Islay for hemorrhoids that ire swollen and protrude like a bunch of grapes' and are soothed by cold soaks or compresses. Hernammelis 30c: 5 pills twice daily for bleeding piles.
For inquiries you now Call: 022-56789899:
Toll Free-free: 1800-209-6767:
SMS: DR to 56767: or log on to: www.drbatras.com for health queries. Suggested remedies are indicative.
To be taken under competent medical supervision only.