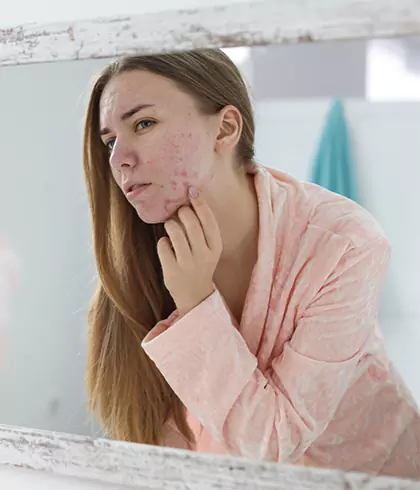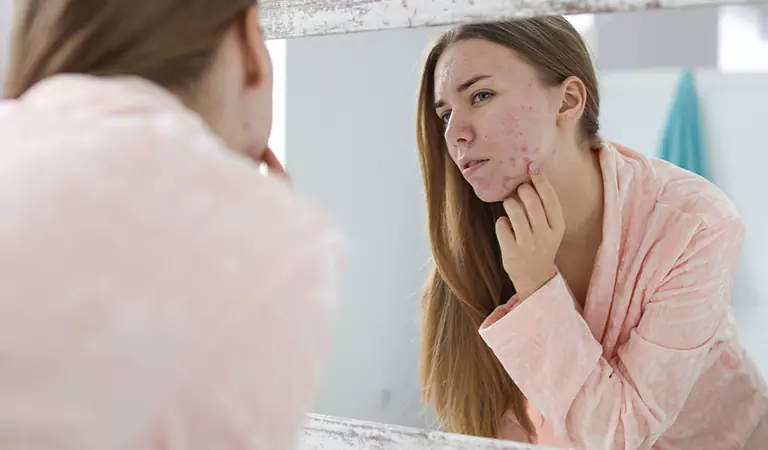 How to treat cystic acne with homeopathy?
Posted by
Dr Batra's™ September 1, 2021
Acne is a broad term for pimples and deeper pustules that clog skin pores. In severe conditions, acne can even leave permanent scars on your skin. While there are many different types of acne, cystic acne is one of the most severe types. It is characterized by deep, inflamed and painful nodules. Cystic acne develops when cysts form underneath the layer of your skin. If these cysts burst, it can lead to the spread of infection and cause a breakout. Acne is most common amongst teenagers and young adults but it can occur at any age. In some cases, acne can resolve itself while in others it can last for years. Cystic acne can affect large areas of your skin and result in low esteem too. It requires proper care and treatment. Consult our team of homeopathic skin experts for side-effect-free acne treatment.
Cystic Acne Causes
In comparison to other types of acne, severe acne can cover extensive areas of your skin. Hormones play a big role in the formation of acne. During your teenage years, there is an elevation in the hormone levels. Hence, acne is more common during puberty. Factors that commonly affect hormone levels also include periods, pregnancy, menopause or polycystic ovarian syndrome. Some of the other factors that can also trigger acne include:
Certain medications

Cosmetic products

Environmental triggers

Genetic factors
Cystic acne is usually diagnosed by its appearance. In some cases, if an infection is noticed a skin biopsy can also be advised.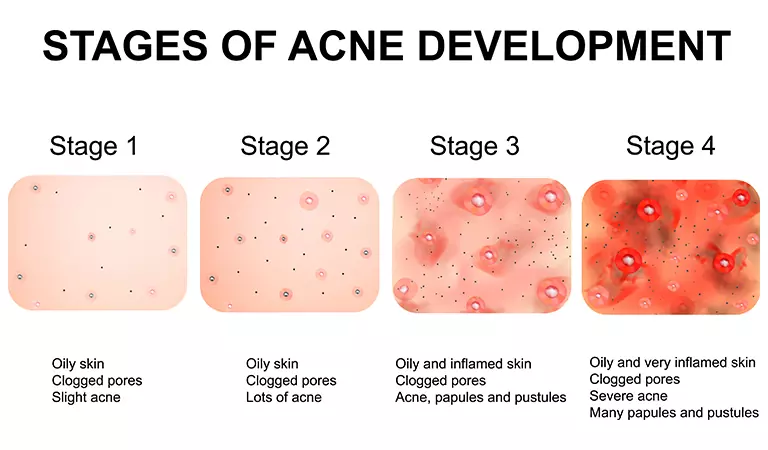 Let's discuss the homeopathic treatment for acne
Early intervention with the right treatment can help prevent acne from getting worse. Homeopathy offers an effective, natural and long-lasting solution for all your skin problems. The acne causes differ from person to person. Therefore, each individual responds differently to the treatment too. The selection of homeopathic medicines for acne is individualized and based on your specific symptoms. According to an article published in the Journal of the National Library of Medicine, 2018, homeopathic medicines are beneficial in the treatment of cystic acne. It also concluded that individualized homeopathic treatments have a remission rate of more than 80%. Therefore, seeking homeopathic treatment for skincare is likely to result in great success.
For lasting results, homeopathic medicines address the underlying cause. They do not suppress the symptoms. Instead, they help to promote healing of the skin and prevent future breakouts. Some of the possible homeopathic remedies that homeopaths use to treat acne include:
Calcarea Curb- used for frequent acne breakouts

Calcarea Sulph- helpful in cases of cystic acne and unhealthy looking skin

Pulsatilla- acne that is associated with menstruations or pregnancy

Kali Bromatum- helpful in cases where acne continues in adulthood
Please note that the aforementioned remedies are just to help you understand that there are different homeopathic medicines for acne. The homeopath selects the most suited remedy only after taking the patient's detailed case history. Therefore, do not self-medicate.
At Dr Batra's®, our homeopathic skin specialist conduct an in-depth consultation to devise a unique treatment. The homeopathic doctor uses the medical science of homeopathy to understand the patient's physical, emotional and psychological symptoms. This unique and individualized treatment incorporates homeopathy medicines, diet and skin care tips.
With over 35 years of experience, Dr Batra's® is a trusted name in treating skin problems. To find the acne treatment that is customized for your skin, book an appointment with us: https://www.drbatras.ae/book-an-appointment.
Also Read: Can popping a pimple lead to an acne scar?