April 10, 2012
Padma Shri Dr. Mukesh Batra awarded Healthcare Professional of the Decade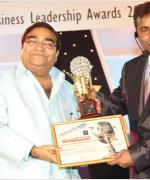 ##PHOTO_GALLERY##
Bengaluru, 6 April 2012: The 'Healthcare Professional of the Decade' award was today conferred on Padma Shri Dr Mukesh Batra, Founder & CMD, Dr Batra's™ Positive Health Clinic Pvt. Ltd., at the 3rd Annual India Leadership Conclave & Indian Affairs Business Leadership Awards 2012, hosted by Indian Affairs magazine in association with the Ministry of Corporate Affairs, at Hotel Lalit in Bengaluru.
An eminent jury comprising of Network 7 Media Group Chairman, Satya Brahma, Infosys Co-Founder and Chairman, N. R. Narayana Murthy and Chairman Bajaj Group, Rahul Bajaj declared Dr. Batra the winner in the 'Healthcare Professional of the Decade' category.
While accepting the honour bestowed on him, Dr. Mukesh Batra said, "I am truly humbled. I thank the organizers immensely for recognizing homeopathy, the world's second-largest medical system. As you would all know, during the past decade, homeopathy has expanded its reach and is growing from strength to strength in India and across the world. It is, in fact, fast becoming the first choice of treatment for an increasing number of people. That it is also growing at an annual rate of almost 30% in India augurs well for safe, effective and affordable holistic healthcare and wellness."
Padma Shri Dr. Mukesh Batra also delivered the inaugural address on 'Globalization of Indian Brands' at the awards ceremony, which was attended by more than 200 industry stalwarts from diverse sectors across the country. The theme of the 2012 annual leadership conclave was 'Brand India – The Emerging Superpower, Limitless Leadership, Limitless Possibilities'.
Dr. Mukesh Batra first began his medical practice from a modest, single clinic in Mumbai in 1982. Today, Dr Batra'sâ"¢ Positive Health Clinics, the company founded by Dr. Batra, is the world's largest homeopathic healthcare corporate, with a network of 89 clinics, spread across 34 cities in India, Dubai and UK. The Company in India is ISO 9001:2008 certified from the American Quality Assessors (AQA).
Dr Batra'sâ"¢ is a recipient of a host of awards and honours. It has been recognized as one of the leading companies in 'Health & Wellness' Sector in 'Best Of India', an international business atlas, being published in 2012. It has achieved the title of 'Power Brand 2011' by Planman Marcom. Dr Batra'sâ"¢ was recently awarded with 'Health and Beauty Retailer of the Year 2011' by Star Retailer Awards. It also received the 'Healthcare and Beauty Business of the Year 2011' Award by Franchise India. Dr Batra'sâ"¢ was honoured with 'Retailer of the Year' Award in the specialized category of 'Beauty, Wellness & Fitness' at the Asia Retail Congress, 2009.
Through his newspaper/magazine writings, books and television programmes, Dr. Batra has created awareness for homeopathy. He was instrumental in legalizing homeopathy in Mauritius. Dr Batra'sâ"¢ clinic in Dubai Healthcare City, the only homeopathic centre, was the recipient of the Best Newcomer Facility Provider 2009, for Excellence in Informatics, Data Submission and Compliance of Requirements, by the Department of Health Informatics, UAE. Dr. Batra also established the first and the only homeopathic clinic on Harley Street, London, the Mecca of modern medicine.
A profound proponent in the joy of giving, Dr. Batra has set up the Positive Health Foundation, which provides free homeopathic treatment to over 20,000 patients, through free clinics across 34 cities. The Foundation also extends homeopathic care to animal welfare shelters, orphanages and old age homes. He also introduced the Positive Health Annual Awards, six years ago, sponsored by Bajaj Discover, to recognise and honour specially-abled individuals, who have overcome disease and disability to lead useful lives.