May 3, 2011
'Love U Mr. Kalakaar' stars inaugurate Dr Batra'sâ"¢ photography exhibition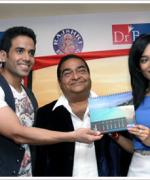 ##PHOTO_GALLERY##
Dr. Mukesh Batra & Dr. Akshay Batra extend their annual charity photo exhibition to three cities
All sales proceeds are donated to People For Animals (PFA)
Tusshar Kapoor and Amrita Rao make a special appearance as Chief Guests
Entitled ' Moody Blues', the exhibition showcases the Maldive Islands

3rd May 2011 Mumbai: It is aptly said that a picture is worth a thousand words. A good photograph captures the essence of the subject, not just the flower but even its fragrance.
What started as a leisure pursuit for Dr. Mukesh Batra and his son, Dr. Akshay Batra, is now an annual fixture on the city's art calendar. In this, their 7th charity show together, the father-son team showcased yet another remarkable collection of more than 35 photographs featuring the spectacular natural beauty of the Maldives.
The show was inaugurated by film stars Amrita Rao and Tusshar Kapoor of Rajshri Production's latest offering, Love U Mr. Kalakaar, where Tusshar Kapoor in the role of a romantic artist, courts Amrita Rao playing a hard headed businessman's daughter. Now in its sixth decade, Rajshri Productions is an acclaimed film production house with several critical and commercial hits to its credit.
In the three cities, the preview was hosted at Bajaj Hall, Mumbai, The Taj Gateway Hotel, Bengaluru and The Stainless Gallery, New Delhi respectively. It was attended by art and film connoiseurs who could be spotted discussing the interesting mix.
Speaking on the occasion, Dr. Mukesh Batra said, "Although my first passion is medicine, I am completed by my second love, photography. For me, photography celebrates the equilibrium of the body and mind. It keeps me connected to the incredible, even when mired in the mundane. I have had no formal training in photography. It was friends like Atul Kasbekar who provided inspiration and advice. Apart from creative satisfaction, this show gives me a way to generate funds and awareness for needy and homeless animals. People For Animals headed by Smt. Maneka Gandhi is India's largest and most effective animal welfare organisation."
Dr. Akshay Batra added, "I am thrilled to be teaming up with my father as an artist. Just as homeopathy combines art and science, so too should we balance our lives. Photography helps me to share my sense of wonder. Seeing a fiery sun drowned by an implacable sea in a different way every day is just so incredible."
Going around the exhibition, the two stars seemed impressed by these Doctor Kalaakars and their Kalaakari. Tusshar was happy that his reel-life character was promoting a real-life kalkaaar. "It is not easy to keep the artist in you alive as you grow in life. When a man does that, then he is the real kalakaar. I am indeed happy at the association."
Amrita Rao who has been MF Husain's muse earlier added, "I play Tusshar Kapoor the artist's inspiration in Love U Mr. Kalakaar, and Tusshar makes my father rediscover the lost artist in him. I am glad the artist in Dr. Batra is still alive and clicking. Most of us tend to lose our inner self with success and Dr. Batra is indeed an inspiration."
Said producer Sooraj Barjatya, "Love U Mr. Kalakaar, written and directed by S Manasvi, is about how an artist makes his mark in a cut-throat corporate world. Dr. Batra reminds me of what Ram Kapoor who essays the role of Amrita Rao's father, would have been, had he let the artist in him win over the business tycoon. Dr. Batra's family and our family relations go back generations and I am glad to see Kalakaar Dr. Batra. s We at Rajshri Productionwish him all the best."
Works from Dr. Batra's previous exhibitions adorn Mumbai's Raj Bhavan, Citi Gold Lounges at Citibank and Bajaj Auto offices around India.
The photographs will remain available for sale at all Dr Batra'sâ"¢ clinics in Mumbai, Bengaluru and Delhi. Prices start from Rs.1000/- onwards.