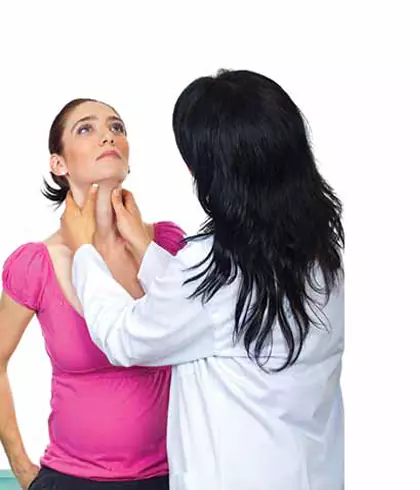 DOES HYPERTHYROIDISM AFFECT PREGNANCY?
Posted by
Dr Batra's™ July 7, 2020
Pregnancy is the most beautiful feeling in the world for a woman as it adds new chapter to her life.
Having a child is no child's play because there are a lot of physiological changes that the body undergoes to prepare for a healthy pregnancy. Various hormones in the body fluctuate to facilitate pregnancy including the thyroid hormones. 
An increase in the thyroid hormones leads to a condition called hyperthyroidism which can cause many different body functions to speed up. Hyperthyroidism during pregnancy is not very common but it does affect your pregnancy. The good news is that you can still have a healthy pregnancy and protect your baby's health.

ROLE OF THYROID HORMONE & CAUSE OF HYPERTHYROIDISM IN PREGNANCY

Thyroid hormones play a very important role during pregnancy with regards to hCG hormone (Human chorionic gonadotropin), estrogen & progesterone. The fluctuations in the thyroid hormones help the maternal thyroid gland to cope with the metabolic demands of pregnancy. It affects the baby's brain development and nervous system. Thyroid dysfunction can take place during or after pregnancy even in those women who never had thyroid problems before.

A common cause of hyperthyroidism in pregnant women is Graves' disease. It occurs when your immune system becomes overactive and forms antibodies that attack the thyroid gland. This causes the gland to enlarge and produce higher quantities of thyroid hormones.

SYMPTOMS OF HYPERTHYROIDISM & ITS EFFECT ON THE BABY

Hyperthyroidism mimic symptoms of pregnancy like feeling tired, getting anxious and so on. Other signs and symptoms of hyperthyroidism are fast and irregular heartbeat, shaky hands, unexplained weight loss or failure to have normal pregnancy weight gain.
 
If left untreated, maternal hyperthyroidism poses a risk for both the mother and the baby.
Pregnant women with uncontrolled hyperthyroidism can develop high blood pressure, suffer miscarriage or give birth prematurely. There is an increased risk of having a baby with a low birth weight. It can also increase the baby's heart rate, which can lead to heart failure.

DIAGNOSIS & MANAGEMENT OF HYPERTHYROIDISM IN PREGNANCY

Sooner the diagnosis, better the prognosis. Mostly investigations are done in the first trimester of pregnancy. It can include the thyroid profile test to measure the level of thyroid hormones. Autoimmune origin is confirmed by measuring thyroid peroxidase antibody (TPO) thyroglobulin and (TG) antibodies.

 Treatment for hyperthyroidism is very specific for each patient. It includes frequent monitoring of thyroid levels throughout pregnancy and use of anti-thyroid drugs that help lower the level of thyroid hormones.
SELF CARE TIPS FOR HYPERTHYROIDISM
 
Lower your stress levels and take complete bed rest.
Check on what you eat; healthy food can help to maintain the levels of thyroid hormones.
Consume a protein-rich diet that includes eggs, nuts, seeds, fish and legumes. Protein transports the thyroid hormone to all your tissues and thus helps your thyroid function effectively.
Have your all multivitamins and supplements prescribed by the doctor.
HYPERTHYROIDISM TREATMENT WITH HOMEOPATHY

 A correctly-chosen remedy can work gently and efficiently to relieve the discomfort of hyperthyroidism. As the doses are smaller, they work gently and enhance the natural ability to cope up with the symptoms. It can also reduce the dependency on external supplementation of the hormones and ensure good health in general. Treatment should be under supervision of registered homeopath to avoid any complication.
The goal of treatment is to maintain normal levels of thyroid hormone and birth of a healthy baby.  
After all every pregnancy deserves a happy ending!