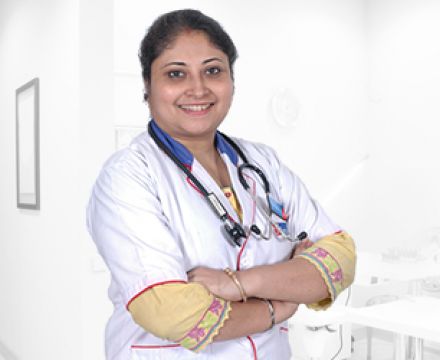 Supra Paul
About Doctor
Dr Supra Paul has been working at Dr Batra's™ for the past 12 years. From 2001 to 2003, she has worked as a Physician at Dr Mahesh Bhattacharya and Co. Kolkata, and, around the same time, she has also been an Honorary Physician at the Rotary club of Calcutta. 
Professional achievements
For the year 2015–2016, Dr Supra Paul was awarded the Best Unit Doctor at Dr Batra's™ Positive Health Clinic. She singlehandedly treated 10,000 patients with many rare and difficult cases in the past 12 years, which fetched her numerous Cured Case awards from 2004 to 2016. She treated more than 350 vitiligo cases, besides curing psoriasis, lichen planus, pityriasis and candida. She has attained a 93% success rate at treating illnesses. 
Research 
Dr Supra Paul recently completed the Fellowship Course in Homeopathic Dermatology (F.C.H.D.) course. Her thesis paper, submitted to the Maharashtra University of Health and Science, Nasik, was on vitiligo. 
Educational qualifications
Dr Supra Paul has a Bachelor of Homeopathic Medicine and Surgery (B.H.M.S.) degree and has also completed an F.C.H.D.
Academic achievements
Dr Supra Paul has been a college topper at her B.H.M.S. course. She has also taken a short-term class in research and methodology.