November 16, 2010
Vidya Balan presents Dr Batra'sâ"¢ Positive Health Awards 2010 in Bengaluru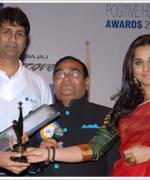 ##PHOTO_GALLERY##
Dr Batra'sâ"¢ Positive Health Awards 2010 presented by Bajaj Discover, were held at Chowdiah Hall today, with Bollywood star Vidya Balan felicitating the awardees at a glittering ceremony attended by over 1,000 invitees.
These Awards, now in their fifth year, are India's first health honours instituted by Dr Batra's™, to recognise those who have displayed outstanding courage in the fight against disease and diasability. Pioneers in the Indian automobile industry, Bajaj Discover has partnered this year's project which for the first time , is being held in Bengaluru.
An eminent panel of jurists comprising of Smt. Maneka Gandhi, Ms. Anu Aga, Vivek Oberoi, R. Balki, Rajiv Bajaj and Dr. Mukesh Batra selected six winners from hundreds of nominations.
These six Mr. Deva Reddy, Dr. S Rajalakshmi, Mr. Shreedhar Rajaram, Ms. Sona Jose, Mr. Prashant Karmakar and Dr. Anand Vinekar, exemplify what it takes to transform humans into heroes.
In addition to a short biographic film on each awardee, the guests were entertained by a scintilling performance by dance guru Shiamak Davar's troupe of specially-challenged children. There was also a musical rendition by the students of The Happy Home and School for the Blind. Speaking on the occasion, Dr. Mukesh Batra, Founder and CMD, Dr Batra's™ Positive Health Clinic Pvt. Ltd. said, "These awards are but a small reward for a big achiement. In overcoming serious health setbacks to lead positive, purposeful lives, each one of our Positive Health Heroes has demonstrated that the strength of the human spirit can conquer the frailties of the human body. The Positive Health Awards honour this spirit and re-affirm Dr Batra's™ commitment to health, strength and positivity."
Reiterating his support to the cause, Mr. Rajiv Bajaj, MD, Bajaj Auto Ltd. stated, "My firm belief in the goodness of homeopathy and the validity of its logic that first brought me into contact with Dr Batra's™. Having been a guest at previous Positive Health Award functions, and a witness to the remarkable stories of strength and recovery of the awardees, I am honoured for Bajaj Discover to be part of this year's ceremony. Bajaj Discover salutes the 2010 Positive Health Awardees and hopes their example will inspire and spread hope to others."
About the Awardees:
- Prashant Karmakar (29) is para olympic swimming champion who won India's first Commonwealth medal in a para Olympic sport. 
- Dr. S Rajalakshmi (24) is a wheelchair-bound dental surgeon who petitioned and won reservation for the disabled in educational institutes. 
- Mr. Deva Reddy (42) is a visually-impaired Hindustani Classical vocalist who runs a music school for visually-impaired girls.
- Mr. Shreedhar Rajaram (64) who is afflicted with polio runs an NGO for disadvantaged students.
- Ms. Sona Jose (32) is afflicted with Cerebral Palsy and works for the rights of the disabled.
- Dr. Anand Vinekar gave up a brilliant career to work for and avert blindness in babies in rural Karnataka.
About The Positive Health Awards:
Dr Batra's™ Positive Health Clinics, the world's leading chain of homeopathy clinics, instituted the Positive Health Awards 5 years ago in 2006. These awards salute the heroism of those who have fought serious physical setbacks to survive and contribute meaningfully to society. We also honour those medical professionals who selflessly serve society. These awards encourage others to believe in themselves and show to the world that nothing is impossible.
Corporate Social Responsibility:
Dr Batra'sâ"¢ Positive Health Foundation has been making a profound difference to the lives of orphans, handicapped children and the elderly. On the first Monday of each month, one clinic in each of the cities where Dr Batra'sâ"¢ is located, offers free consultation and medication to needy patients. Every employee at Dr Batra'sâ"¢ contributes 1% of his/her salary to the Foundation every month. 1% of the organization's net profit also goes to the same. The Foundation grants scholarships to deserving students who wish to pursue studies in homeopathy. It conducts CSR activities in a number of institutions such as the Happy Home & School For The Blind, Shepherd Widow's Home, Mercy Old Age Home, Action India and People For Animals shelter, to just name a few. Every year, it honours individuals who are living medical miracles having survived and recovered from seemingly irrecoverable conditions to lead remarkable lives.