October 14, 2016
Homeopathy awarded the Best Healthcare Clinic in EuropeClinic in Europe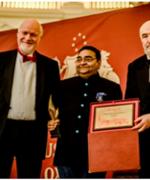 ##PHOTO_GALLERY##
Dr Batra's™ Homeopathy was awarded by The Europe Business Assembly, the Best Clinic Award for their strong position in the national healthcare market and high quality medical service. Dr. Mukesh Batra was also honoured as the CEO of the Year at the same ceremony which was held at Oxford Town Hall in a royal ceremony, which encapsulated British culture and heritage.
One of the most prestigious European awards, The Europe Business Assembly (EBA) is an international corporation for the evolution and implementation of economic and social development.
Accepting the award, Dr Mukesh Batra, Padma Shri recipient, Founder-Chairman of Dr Batra's™ Group of Companies said, It is an honour to be recognised among clinics in 40 countries as the Best Healthcare Clinic. It is our constant endeavour to provide the best of doctors and medical services to our patients. This is a matter of pride and prestige not only for our clinics but also for homeopathy as a medical practice, that a Homeopathy clinic was recognised as one of the best clinics in Europe.