August 5, 2010
Renowned Homeopath presented with the Eco Ganesha Festival Award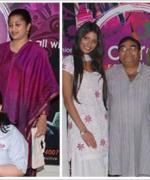 ##PHOTO_GALLERY##
Rodas Ecotel & Young Environmentalists Programme Trust honor Dr. Mukesh Batra.
Mumbai, 5th August 2010- The Lord Ganesha inspired Eco Ganesha Festival began this morning, with the Eco Ganesha Festival awards function, where renowned homeopath and social activist, Dr. Mukesh Batra was honoured for his contribution to a green world.
Accepting the honour, the eco-enthusiast healer Dr. Batra observed, "I am proud that a ecotel hotel together with young environmentalists has taken a step to celebrate eco-friendly Ganapati. We inherit this world for our children and if we do not conserve it we will have nothing to pass on. As a doctor I would like to say that a lot of health concerns are caused due to environmental hazards. Our environment plays a very important role in being healthy and homeopathy being a natural form of medication is environmental friendly. Also, one of the best ways to contribute to the environment is to turn vegetarian."
Others who were honoured for their eco-friendly practices was Pantaloons Femina Miss India Earth 2010 - Nicole Faria, the Deputy Mayor of Mumbai - Ms. Shailaja Girkar, model - Ms. Pracchi Mehta Shah, actor - Mr. Vinod Singh, politician - Mrs. Pallavi Sanjay Patil and theatre actress - Ms. Sanam Jain, who did their bit to flag off the event in the go-green mode.
Like every year, The Young Environmentalists Programme spared no effort in promoting environment-friendly Ganesha this season too, with a touch of glamour and social service. Rodas Ecotel, Powai, hosted a gathering of over 500 citizens who voluntarily participated in the preparation of Ganesh idols from the pure silt of the Powai Lake.
About Dr Batra's™ Positive Health Clinic Pvt. Limited (DBPHCPL) - Founded by Dr. Mukesh Batra in 1982, Dr Batra's™ Positive Health Clinic Pvt. Ltd. (DBPHCPL) is India's Leading Homeopathic Healthcare Corporate. Dr. Mukesh Batra set up a single clinic in Mumbai in 1982, which today has grown into a corporate chain of over 57 homeopathic clinics across 22 cities in India and abroad. The company has over 250 doctors including 40 MDs, merit holders, gold medalists, and specialists in trichology, dermatology, general medicine, cardiology, diabetology, and paediatrics, who are hand-picked and personally trained by Dr. Batra. Dr Batra's™ treats lakhs of patients every year for chronic diseases including Asthma, Diabetes, PCOD, Attention Deficit Disorder and a whole gamut of male, female, and children-related problems, besides hair and skin diseases.
DBPHCPL's Cyber Clinic (www.drbatras.com) has been listed in the Limca Book of Records (Editions 2004 & 2005) for being the first Cyber Clinic to offer Online Consultation to over 4.5 lakh patients every year from over 87 countries around the World. DBPHCPL is also the World's First Homeopathic Healthcare Corporate to receive ISO 9001-2008 Certification. DBPHCPL recently launched the World's First Tele-Homeopathy Clinic, which enables real-time multi-locational connectivity between the patient, consulting doctor and in-house super specialists.