September 22, 2014
Dr. Batra's™ Healthcare enters 1billion AED hair and skincare market in UAE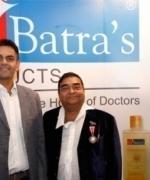 ##PHOTO_GALLERY##
Dr. Batra's™ to retail through 5000 stores and expects a turnover of 10million AED by 2017
Dr Batra's™ Healthcare unveiled its plan to enter the 1billion AED hair and skin care market at a press conference at The Address hotel in Dubai. The conference was addressed by Dr. Mukesh Batra, Founder and Chairman, Dr. Batra's™ Healthcare.
Speaking at the launch, Dr. Mukesh Batra, Founder & Chairman, Dr. Batra's™ Healthcare said, "We are delighted to launch our uniquely formulated products in the UAE market. We have partnered with strong distribution partners like SMS & NMC Trading who will play a major role in bringing our products to the GCC&UAE region respectively."
Dr. Batra added, "We have placed our products in 50 leading stores in UAE. We aim to reach 5000 stores by March 2017and expect to reach a turnover of 10mn AED."
Commenting on the launch, Dr. B. R. Shetty, Founder, MD & CEO, NMC Healthcare, said "We are pleased to collaborate with healthcare giant like Dr. Batra's™ healthcare in Dubai. We are happy to bring Dr. Batra's™ uniquely formulated products for the benefit of consumers in the UAE region."
Dr. Batra's™ Healthcare have launched the extensive range, comprising of hair and skin care products like Dr Batra's™ hair oil (contains Olive oil & Jojoba which is rich source of vitamin requirement for hair nutrition), Dr Batra's™ normal hair shampoo (Henna is a natural conditioning agent for hair), Dr Batra's™ hair conditioner (Amla which nourishes hair), Dr Batra's™ dandruff cleansing shampoo (Thuja a DHT inhibitor), Dr Batra's™ natural skin lightening cream (Mulberry from Italy with natural skin lightening properties), Dr Batra's™ sun protection cream (Echninacea naturally blocks the skin from harmful sun-rays), Dr Batra's™ natural anti acne cream (Oarweed protects adult stems from ageing and Kombu a Japanese secret of looking young) and Dr Batra's™ face wash (Tea Tree Oil which is rich in Antioxidant and anti bacterial properties).
Dr. Batra's™ Healthcare launched their product range after years of extensive research and development and the products are safe, effective and clinically proven. Dr. Batra's™ hair and skin range is specially formulated and designed by dermatologists and trichologists.
Dr. Akshay Batra, Trichologist and MD, Dr Batra'sâ"¢ Healthcare was also present at the press conference. A vote of thanks was given by Mr. Ravi Narayan - Director, Strategic World LLC at the launch event.
About Dr. Batra's™:
Dr. Batra's™ Health Care Group was founded by Dr. Mukesh Batra in 1982 in Mumbai. It is today the leading homoeopathic healthcare corporate in India, running 156 clinics across 79 cities, in India, Dubai and London. In 2009, the company introduced aesthetic solutions through its flagship brand, Dr Batra's™ Aesthetic Solutions. It offers services ranging from hair transplant and obesity solutions to skincare.
Dr. Batra's™ has made significant progress in the personal and healthcare products market through its well-established division, Dr. Batra's™ Positive Health Products. It has until now provided individualized treatment and care to over 7 lakh patients across the globe, including 3 lakh hair patients and 1 lakh skin patients.
Dr. Batra's™ Cyber Clinic has been listed in the Limca Book of Records (Editions 2004 and 2005) for becoming the first-ever cyber clinic to offer online consultation to over 4.5 lakh patients every year. It has also launched the world's first tele-homoeopathy clinic which offers real-time, multi-location connectivity to patients across the world.
Dr. Batra's™ emerged as India's only "Most Trusted" brand in the homeopathy segment in The Brand Trust Report – India Study 2013. It was feted as a Power Brand for the year 2012 by Planman Media. Dr. Batra's™ is also the world's first homoeopathic healthcare corporate to receive the much-coveted ISO 9001-2008 certification. The brand is well known for its philanthropic work for the uplift of the underprivileged.
For more information, please visitwww.drbatras.com
About NMC
NMC Trading, the trading arm of the NMC Healthcare, founded by eminent Dr B. R. Shetty, is one of the UAE's leading marketing and distribution companies, for prestigious brands in FMCG, Pharmaceuticals, Medical Equipment, Foodstuff, Veterinary products, Analytical Lab Equipment, Medical Consumables & Disposables and Educational resources. More than Twenty international brands occupy premier slots in NMC portfolio. Within a short span of time the company has emerged as one of the leading players in the trading business - backed by efficient planning, a dedicated team of sales & marketing professionals, strategically located warehousing facilities, a robust sales & distribution network and a fully computerized inventory management system. NMC trading has clients like Revlon, Tony & Guy, Veet and Nivea.
About SMS
Strategic World is a pan Middle East Marketing Services company handling a wide portfolio of brands in food and personal care category. It specializes in identifying market gaps, selecting the right channel partner and developing & implementing strategies for brands, which are beneficial for brands to be sustained in GCC markets.
Strategic World handles a portfolio including Tatas' Eureka Forbes, Zydus Wellness Ltd (Sugar Free and EverYuth), Mother Dairy, Al Adil Flour Mills (Peacock Chakki Fresh Atta), London Bakers Ltd, Piramal Health Care Ltd. (Lacto Calamine, i-Care, i-Sure), Kamla Foods (Dukes Biscuits), Crown Confectionery (Crown Cookies & More), Badshah Masala, Swamsan Brands Inc (Capten Kwik Healt foods for children), Urmin Foods (Paagal Peanuts), Ganesh Papad, Ban Laboratories (SESA Hair Oil), Jyothi Laboratories Ltd (Ujala, Maxo, Exo, Margo, Neem etc), Mitchell Inc.