October 31, 2013
Dr Batra's™ launches 'Homeopathy & You'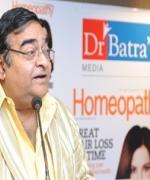 ##PHOTO_GALLERY##
Company's first foray in media is also India's first homeopathy magazine
Dr Batra's™, India's premier company for excellence in homeopathic treatment, today announced the launch of 'Homeopathy & You', India's first magazine on homeopathy. The monthly publication would provide exclusive content from renowned doctors, health experts, writers and columnists from India and abroad.
Commenting on the new initiative, Padma Shri recipient Dr. Mukesh Batra, the Founder-Chairman of Dr Batra's™ Group of Companies and a homeopath of international repute, said, "According to WHO, Homeopathy is the second largest system of medicine in the world. With the global market estimated to be Rs. 26,000 crore, India's homeopathy market is currently worth Rs. 2,758 crore. It is expected to reach Rs. 5,873 crore by 2017. Since last five years, homeopathy is growing at the rate of 30 per cent per annum. With 10 crore people already using homeopathy in India, as pioneers of this system, we felt that we should take the benefits of this wonderful science to the masses and this prompted us to come up with Homeopathy & You."
On this occasion, Dr. Shashi Tharoor, Minister of State (HRD), said, "I am delighted to launch Homeopathy & You - India's first homeopathy and lifestyle magazine. As someone who has known Dr. Mukesh Batra for the past 50 years, I can vouch for his passion and his success in helping and healing the sick. Similarly, I am sure of the success of this magazine in creating awareness about health and empowering people to understand their health concerns."
Homeopathy & You would be published each month. It is priced at Rs. 75 each copy, with an annual subscription of Rs. 720. 'Homeopathy & You' would have many columns from expert columnists like Tarla Dalal, Kerry Dulin Maneka Gandhi, Ambika Shukla, Richard Firshein, Nelressa Stallings and Radhanath Swami.
The first-ever media initiative of Dr Batra'sâ"¢ Group, which began operations in 1982 and has 121 centres today in India, Dubai and the UK, Homeopathy & You will be available at all of Dr Batra'sâ"¢ clinics, newsstands, speciality stores, and other outlets, across the country.
About Dr Batra'sâ"¢ Positive Health Clinic Pvt. Ltd.:
Dr Batra'sâ"¢ Health Care Group is founded by Dr. Mukesh Batra in 1982 in Mumbai. The Group today is the leading Homoeopathic healthcare corporate, having 121 clinics across 61 cities with presence in India, Dubai and London. In 2009, the company introduced Aesthetic Services through its flagship brand Dr Batra'sâ"¢ Aesthetic Solutions Pvt. Ltd. The aesthetic solutions arm of Dr Batra'sâ"¢ offers wide services ranging from hair transplant, obesity solutions, to an array of skincare solutions.
The brand has also made significant progress and development in personal and healthcare products under its well established division Dr Batra'sâ"¢ Positive Health Products Pvt. Ltd. This marks a phenomenal contribution by Dr Batra'sâ"¢ due to its individualized treatment and care to over 7 lakh patients across the globe, including 3 lakh hair patients and 1 lakh skin patients.
Dr Batra's™ Cyber Clinic (www.drbatras.com) has been listed in the Limca Book of Records (Editions 2004 and 2005) for becoming the first-ever cyber clinic to offer online consultation to over 4.5 lakh patients every year. It has also launched the world's first tele-homoeopathy clinic which enables real-time multi-location connectivity. The brand is the only Homeopathic Most Trusted No. 1 Ranked Brand by The Brand Trust Report – India Study 2013, and feted as a Power Brand for the year 2012 by Planman Media. Dr Batra's™ is the world's first homoeopathic healthcare corporate to receive the much-coveted ISO 9001-2008 Certification. Moreover the brand is well known for its philanthropic initiatives for the underprivileged, including free medical treatment.