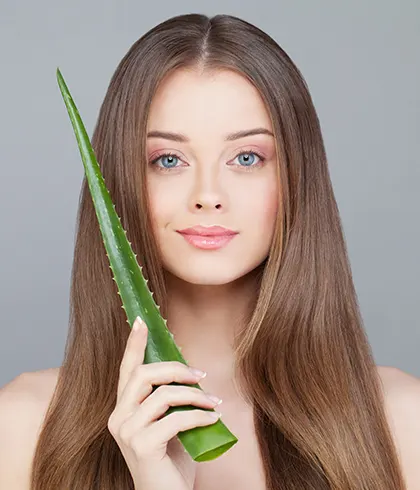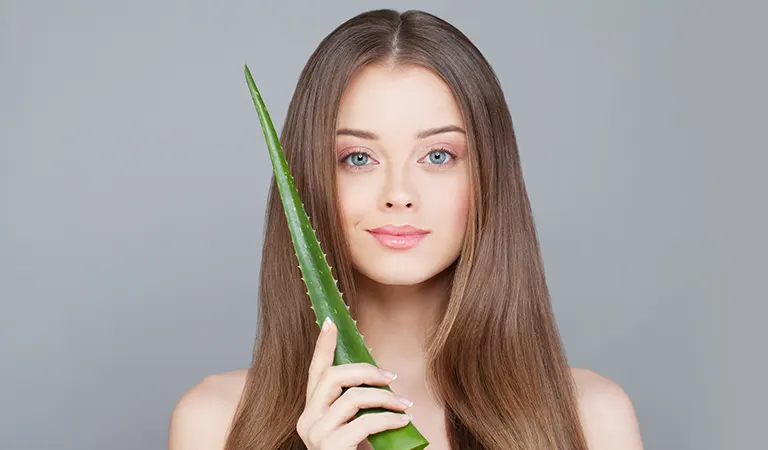 Can Aloe Vera Gel Prevent Dandruff?
Posted by
Dr Batra's™ July 5, 2021
A flaky and itchy scalp could be a sign of dandruff. It mainly affects the scalp and is more likely to occur in areas that are rich in oil-producing glands such as the face or chest. Medically, it is known as seborrheic dermatitis. Moreover, dandruff should not be taken lightly as it could be a sign of an underlying medical problem. If you are suffering from severe and persistent dandruff, or if symptoms worsen, it is recommended to visit a doctor.
Causes of Dandruff
Dandruff is caused by a fungus called Malassezia. There are several factors that can trigger dandruff, ranging from allergy to extreme stress or humidity. The following are some of the common factors that can cause dandruff:
Dry or Oily skin

Not cleansing the scalp properly

Fungal infection

Sensitivity to hair care products

Skin conditions such as

psoriasis

or

eczema
While there are plenty of over-the-counter products available, simple home remedies for dandruff can be just as effective. Aloe vera has been used for centuries due to its healing properties. In a clinical study published in the Journal of Clinical and Aesthetic Dermatology, 2017, aloe vera gel showed a positive result in the treatment of seborrhoeic dermatitis (a severe form of dandruff.)
Aloe vera is known to be an effective remedy as it has anti-fungal and anti-bacterial properties. It also has Vitamins C, E, B-12 and folic acid that can help nourish and strengthen hair from the roots. Aloe vera can not only help reduce dandruff but it can also help reduce scalp irritation and inflammation. To get relief from the symptoms of dandruff, aloe vera gel (store-bought or fresh) can be applied directly on the scalp.
How to use Aloe Vera for dandruff treatment?
Aloe Vera Gel- Apply aloe vera gel directly onto the scalp and let it sit for 30 minutes. Wash it off using a mild shampoo. You can use this home remedy, up to 2 times in a week.

Aloe vera and Coconut- To prepare a hair mask, mix 1 tsp of coconut oil with 2 tsp of aloe vera gel. Using fingertips, apply the mask to your scalp. Rinse it after 30 minutes.

You can also substitute coconut oil with other ingredients such as lemon, cider vinegar, yogurt or honey. In some cases, aloe vera can cause an allergic reaction, therefore, we recommend doing a patch test first.
In most cases, simple home remedies for dandruff work very well. However, what works wonders for others may not necessarily have the same impact on your scalp condition. Homeopathy has proven efficacy in treating a wide range of hair problems. In a clinical trial conducted in 2002, 41 patients were assigned one of the two treatments including a placebo and homeopathy. The group which was given the homeopathic remedy in low doses showed significant improvement after 10 weeks of treatment for seborrheic dermatitis and dandruff.

Also Read: Homeopathic medicines holistic solution for your hair loss problems
Homeopathic Dandruff Treatment
For lasting results, correcting the underlying problem is important and that is exactly what homeopathic treatment does. It helps to enhance the body's immune response without any side-effects. Homeopathy helps to control the over-active oil glands and corrects the underlying problem such as thyroid. Homeopathic medicines also help to deal with stress and anxiety that usually aggravate dandruff. At Dr Batra's®, the homeopathic doctor uses the medical science of homeopathy to plan an individualized treatment. This plan incorporates homeopathic medicines for dandruff, lifestyle and hair care tips for the complete well-being of the patient. Over the last 35 years, Dr Batra's® has successfully treated over 1 million hair patients. To get a safe, effective and natural solution to your hair problems, book an appointment with us: https://www.drbatras.ae/book-an-appointment.
Also read: Dandruff Vs Dry Scalp- The Difference and Causes