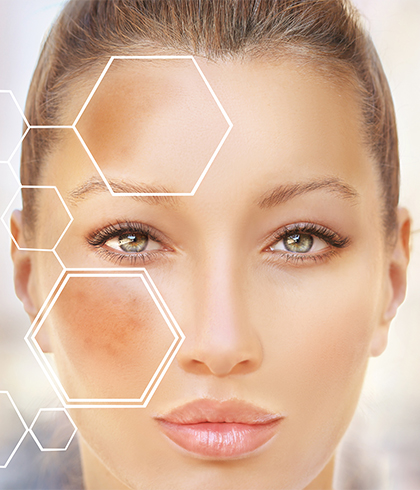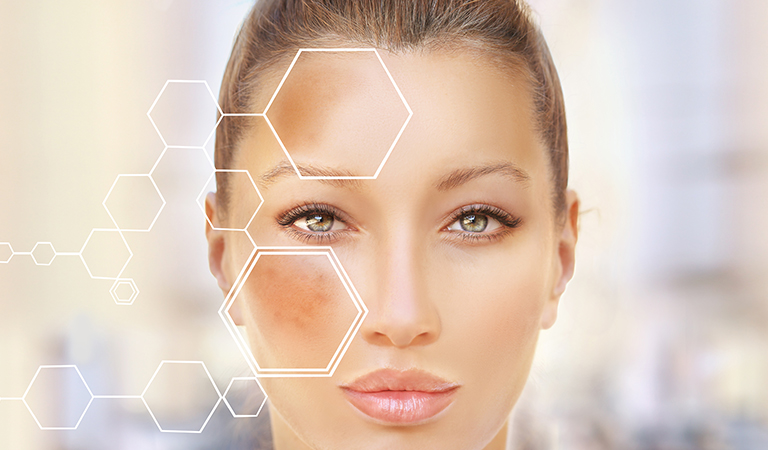 Hyperpigmentation Around the Mouth: How to Tackle Hyperpigmentation Around the Mouth?
Posted by
Dr Batra's™ September 27, 2021
Hyperpigmentation often manifests in the form of skin discoloration. When your body produces an excess of melanin, it can result in the discoloration of the skin. Hyperpigmentation can affect any region of your body and small discolored patches may be visible. The area around your mouth is commonly affected by skin pigmentation and is prominently visible to the naked eye. The reason for skin pigmentation around your mouth may include.
Hyperpigmentation: Discolored patches on your skin are commonly caused by an excess production of melanin in the body. The dark skin around your mouth can include sunspots and melasma. Hyperpigmentation can affect people of different age groups and skin types.

Medications like tricycle antidepressants and anti-malaria medicines can cause the discoloring of the skin around your mouth. These are present in certain ointments that can lead to hyperpigmentation as a side effect. When your pigmentation turns severe, it may cause Addison's disease or haemochromatosis.
Addison's disease can cause the discoloring of the skin in areas that include skin folds, knees and elbows. It can also cause discoloration in areas around the lips and inside the cheeks, toes and knuckles.
Weather conditions: When your skin is exposed to the sun, it can cause dark patches around the lips. During cold weather conditions, the skin around your lips is soft and it may cause discoloring that is predominantly visible.

Vitamin deficiency that includes vitamin B12 and vitamin D can be a major cause of the discoloring of the skin. Vitamin D deficiency is commonly seen in women with Melasma.

Trauma inflicted pigmentation can be caused due to an acne breakout, skin burn, injury or any type of infection. In cases of skin injuries, the brown and black pigment marks can fade away and the skin can get discolored (also known as post-inflammatory hyperpigmentation).
Also Read: Homeopathy Faces Down Pigmentation
Also Read: Pigmentation - unmask the mask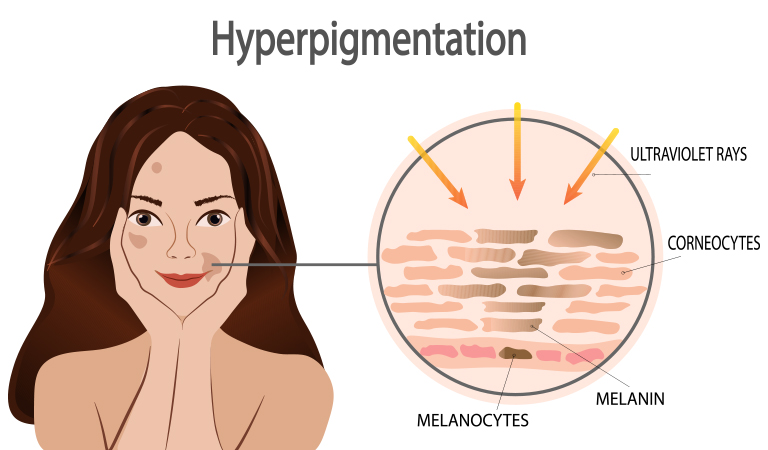 It's always easy to treat a condition if you know the cause. So, here are a few home remedies you can try as skin pigmentation treatment:
Lemon juice: The citric acid in lemon lightens dark patches on the skin and reduces its reoccurrence. Cut the lemon in half and rub one side on your skin. Continue to rub it for 10 to 15 minutes and then rinse it off.
You can also mix some honey with the lemon juice and apply it on the dark patches. Leave it overnight and rinse it out in the morning.
Oatmeal scrub: This remedy helps brighten the skin around your lips, it can also remove dead skin cells. Mix oatmeal, tomato pulp and olive oil to a pack consistency and then gently rub it on the skin in a circular motion.

Papaya: Papaya is rich in vitamin C and D and helps reduce dark patches around your mouth. Blend a raw papaya slice with rose water and mix it to a thick paste-like consistency. Then apply it on your face and leave it for half an hour. Later gently rinse it off with cold water.

Potato: Take a raw piece of potato and massage in on the dark patches around your mouth for 20 minutes in a circular motion. This will help reduce the dark patches as potatoes have the qualities of bleach.

Aloe vera: Aloe vera consists of aloesin that can help brighten the skin around your mouth. It also helps to manage melasma if taken in the form of a capsule.

Gram flour: Besan (Gram flour) is best for reducing hyperpigmentation on your skin. Mix two teaspoons of besan and half a teaspoon of haldi (turmeric) with rose water, milk or normal water and apply it on the dark patches. Leave it on the skin for 10 to 15 minutes and then wash it off thoroughly.

Amla: Apply some amla juice on your face and let it dry. This will help effectively reduce pigmentation on the skin.
Homeopathic treatment
Homeoapthy offers holistic solutions for all your skin related problems. According to the European Journal of Molecular & Clinical Medicine, individualized homeopathic treatments are effective in managing acute skin conditions without side effects. Homeopathic treatments are effective and give long term results. The treatment solutions are free from toxins, natural and safe.
Why Dr Batra's®?
At Dr Batra's® UAE, our homeopathic doctors diagnose your skin condition based on the location of the decease, the duration and the extent of the condition. With the help of our 3D imaging device we capture 10mm deep within the skin to device a treatment plan that best suits your condition. At Dr Batra's® we also treat the underlying problems that can lead to the skin condition to offer long term and effective solution to our patients. Book an appointment now, https://www.drbatras.ae/book-an-appointment.
Also Read: Everything You Need to Know About Hyper-Pigmentation Treatment
Also Read: How to manage hyperpigmentation in the summer
Also Read: A 20-year-old college student with acne had dark marks (hyperpigmentation) on her skin due to pimples