September 29, 2011
Shaam-E-Ghazal - A medley of ghazals from the renowned homeopath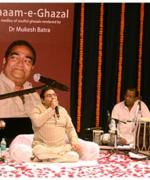 ##PHOTO_GALLERY##
After pioneering homeopathy as a corporate enterprise, and launching his new magnum opus, self-help book on homeopathy, 'Healing with Homeopathy' this month, Dr. Mukesh Batra enthralled his friends and family with his melodious rendition of soulful ghazals, 'Shaam-E-Ghazal,' at P. L. Deshpande Maharastra Kala Academy, today.
Celebrities such as Ambika Shukla, Dolly Bindra, Ananya Banerjee, Barkha Roy, Arzan Khambatta and Nayna Kanodia added a splash of glamour to the melodic evening.
In spite of his extremely busy and packed schedule, Dr. Batra takes time out to pursue his favourite hobbies — photography and music — in which he has had no real, or long-term, training, apart from a passion 'to just do it' his way. He has, in so doing, honed his zeal and skill for singing, for the last three years.
Speaking on the occasion, Dr. Mukesh Batra said, "Music is medicine. It heals. It also provides a safe, non-invasive therapeutic outcome for the mind, body and soul, just like homeopathy. The most important thing is 'riyaaz,' on a daily basis. It has helped me to evolve with a caring sensitivity to the power of sound, or soulful resonance, to appreciate life in all its forms. I am happy that this recital follows the path of my debut performance in light classical film music, held in January, this year."
Living up to its name, 'Shaam-E-Ghazal' emerged a soothing balm for the mind and soul. Besides, it was also heartening to see the audience appreciate and applaud Dr. Mukesh Batra's melodious rendition of lilting ghazals, all through the concert.