December 14, 2011
Saluting the Heroes of 2011, Anil Kumble Felicitates the Awardees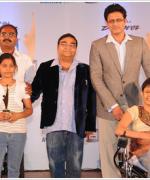 ##PHOTO_GALLERY##
Bajaj Discover presents Dr Batra's™ 6th Positive Health Awards 2011, held at the Chowdiah Memorial Hall today witnessed Anil Kumble, the cricket legend felicitating this year's positive health awardees. This was an initiative to honor significant people who live a positive life despite their physical disabilities. Four such heroes were awarded in the presence of about 1,000 people in appreciation of their laudable efforts and their outstanding courage in their endeavor against diseased and disabled conditions of life. The winners for this year's edition of the awards were recognized and selected by an eminent panel of jurists comprising of Smt. Maneka Gandhi, Ms. Anu Aga, Mr. Vivek Oberoi, Mr. R. Balki, Mr. Rajiv Bajaj and Dr. Mukesh Batra. The awardees recognized were Ms. Sujatha Burla, Mr. Siddu S. Loute, Mr. Shreedhara T S and Ms. Bhumika Rajendra for their exemplary effort of transforming humans to heroes.
In addition to a short biographic film on each awardee, attendees at the award function were treated to scintillating performances by the dance guru Shiamak Davar's troupe of specially-abled children. Admiring the spirit of the awardees, the Indian Cricket Legend, Anil Kumble, said, "I am immensely delighted to felicitate these heroes who have fought out the trials and tribulations in life and have created a niche for themselves in the society. The foremost rule of any sport is to never give up, no matter what, but to keep fighting till the end. These individuals have lived that never ceasing spirit and have successfully fought against all the impossibilities in life to create possible winning situations for themselves. I salute Dr. Mukesh Batra and Mr. Rajiv Bajaj for this extraordinary event and for the great work that they are doing to contribute towards such a noble cause.
Speaking on the occasion, Dr. Mukesh Batra, Founder and CMD, Dr Batra's™ Positive Health Clinic Pvt. Ltd. said, "Dr Batra's™ Positive Health Awards salutes people with unyielding grit and unflinching determination, who have beaten all odds to overcome seemingly hopeless situations and have been dedicated enough to make commendable contributions to society. These heroes have demonstrated the strength of the human spirit and have proved that, all it takes to make a difference in the world is a strong will power and great positivity. The Positive Health Awards honor this spirit and re-affirm Dr Batra's™ commitment to health and positivity."
Reiterating his support to the cause, Mr. Rajiv Bajaj, MD, Bajaj Auto Ltd. said, "The Dr Batra's™ Positive Health Awards is a step in a noble direction and we are proud to be associated with this initiative for the second consecutive year. We firmly believe that the lives of these awardees will inspire and spread hope to others."
About the Awardees:
Ms. Sujatha Burla (32 years): A road accident that happened 10 years back changed her life forever making her quadriplegic with limited mobility below the shoulders. She is a TEDx speaker and a popular TV presenter for TV9 hosting a show called "Close Encounter with Suzy". She has never suffered with bed sores in last 10 years as she practices yoga and physical exercises regularly. She provides counselling to paraplegic people and also addresses the NASA & ISRO scientists with motivational speeches on positive thinking and living. She has been running an orphanage for the past 3 years. She belongs to a middle class family from Hyderabad. Her father passed away few years ago. With no financial support from any of her 3 elder siblings, she earns a living and supports her mother too.
Mr. Siddu S. Loute (25 years): Visually impaired since birth, Mr. Siddhu is a Mathematics prodigy fondly called as a human computer. By Class II, he had already memorized math tables up to 56 lakh and now claims to have memorized tables up to 99 crore. When provided with a date from the past or future, he can provide the exact day the date falls on. He has memorized 45,000 phone numbers which makes him a walking-talking telephone directory. He had also participated and won a prize in a popular television show on Sony TV called 'Entertainment ke liye kuch bhi karega'. His unique talent combined with his irrecoverable condition got him featured on a couple of TV channels such as TV9, Suvarna, Suvarna News, DD 1 and Sakshi. Overtly ambitious as he is, he has completed his LLB and aims to become an IAS officer with an honest intention to help the needy and the downtrodden. Son of a truck driver, he was abandoned by his family since the age of 5, and has since been living independently.
Mr. Shreedhara T S (23 years): Mr. Shreedhara is 100% blind but he can read, write and speak English, Hindi and Kannada. He has developed a Kannada version of the text-to-speak software (first generation open source software) through which any visually challenged person can read, write and work on computers. The Knowledge Commission of Govt. of Karnataka has hosted his software named 'E-Speak' on its Kannada Wikipedia website to be used free of cost. He has hands on experience with Windows 98, Windows 2000/XP, Windows Vista, MS Office 2003. He can type at a speed of 35-40 wpm and has extensive knowledge and experience in using the internet. Coming from a farmer's family, his parents practice farming in a village in the Shimoga District of Karnataka. Currently, his father has come to Bengaluru and has been assisting him in pursuing further education in computers.
Ms. Bhumika Rajendra (9 years): She was only 3, when she had an elevator accident and had to get her right leg amputated above the knee. In spite of this disability, she had always wished to excel in Bharatnatyam and classical singing and would constantly practise to turn her dreams into reality. Though the artificial leg that was fitted to her knee was akin to an alien, she accepted it as a vital part of her being and has ever since been pushing her limits to excel in the Bharatanatyam dance form. During her dance sessions, there have been instances when her skin used to give way and the stump bled. And every time that happened she thought of giving up, but she fought unceasingly against all odds with a positive spirit. She has performed with the famous Kannada cine actor Sridhar at a "Zee Kannada" programme organized by Zee TV Network in Bengaluru. She has given many stage performances and has been extensively covered by various publications. She belongs to a lower middle class family from Kodagu District in Karantaka and her father works as a lecturer.