January 16, 2013
Dr. Mukesh Batra Thrills the Hearts of Mumbaikars with his 'Yaadon Ki Bahaar 3' Singing Concert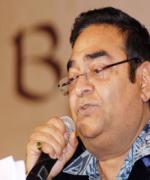 ##PHOTO_GALLERY##
After pioneering and extending his gentle homeopathic healing touch across India and the world, Padma Shri recipient Dr. Mukesh Batra, Founder & Chairman, Dr Batra'sâ"¢ Positive Health Clinic, delighted the hearts of Mumbaikars with his melodious voice today at YB Chavan Auditorium. Well-known personalities such as Roop Kumar Rathod and Dolly Bindra were the Guests of Honour at this lively function. The opening song of the event was rendered by Hriman Batra, Dr. Batra's six year old grandson.
The success of Yaadon Ki Bahaar 1 and 2 motivated the enthusiastic doctor to perform 'Yaadon Ki Bahaar 3' and also marked Dr Batra'sâ"¢ annual donation to The Shepherd's Widow Home in Mumbai. Managed by Bishop of Mumbai - CNI, the home takes care of over 30 old widows and provides them with free housing, medical and other necessities. It fills the void in their lives and provides them vital support that keeps important aspects of their lifestyles intact while improving their overall quality of life (QoL). Dr Batra'sâ"¢ has been associated with Shepherd's Widow Home for the past 30 years and provides free lifetime treatment to its inmates. The musical concert with its enchanting medley of songs was a treat for them. It was also heartening to see over 500+ audience appreciate and applaud Dr. Batra's melodious rendition of Bollywood's golden numbers from yesteryears. Hits of Kishore Kumar like Ena Mina Dika, Rafta Rafta, Mukesh's Kahin Dur Jab Din Dhal Jaye and Mohammed Rafi's sizzling hits set the mood for a great evening of entertainment for all.
A larger-than-life personality, Dr. Batra regularly takes time out from his busy schedule to give back to the society. Inmates at such homes mostly come from increasing nuclear families, growing career and social pressures which our younger generation are overburdened with. He feels that elderly widows do not need our pity. "What they need is attention, understanding, love and care from their fellow human beings - more so, because they feel extremely lonely and left out from the lives of their family. It is our duty to see that they do not spend their twilight years in isolation, pain and misery. When I see them smile, and dance, while I sing, I feel truly fulfilled. My greatest inspiration comes from supporting a cause, doing my bit for the less privileged."