January 7, 2011
Dr. Mukesh Batra lends his voice for the cause of aged widows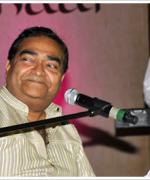 ##PHOTO_GALLERY##
Mumbai, 7th January 2011 - After pioneering and extending his gentle homeopathic healing touch across the country and the globe, Dr. Mukesh Batra took the city by storm with his healing voice. His debut musical concert, ' Yadoon Ki Bahaar,' which he hosted today at Y. B. Chavan Auditorium, brought out his musical talent to the fore — enriched with melody, rhythm and rhapsody.
It was heartening to see over 500 audience appreciate and applaud his melodious rendition of Bollywood's golden numbers from the 1950s and the 1960s. Anu Malik graced the occasion as the chief guest. Also seen at the concert were celebrities like Sumeet Sachdev, Bharat and Ananya Dhabolkar, Nisha Jamval, Ambika Shukla, Ananya Banerjee, Dr. Ushma and Dr. Akshay Batra.
In spite of being a renowned medical expert, always on the move, Dr. Batra has taken time off to pursue his love for music, after making a mark with his photography, to explore a life beyond his profession. He discovered his passion for singing two years ago and began training in Indian music to gear up for his first-ever public performance.
Being in a profession that requires a caring heart, Dr. Batra earmarked his concert for a noble cause — donating its proceeds to a charitable institution, Shepherds Widow Home. Dr Batra's™ has been associated with Shepherds Widow Home for the past 30 years and has been providing free treatment to the inmates. He chose to lend his voice for this cause because he believes that, today, it is a common trend among children to send their parents to live in an old age home after they grow old. Sadly, since they are considered to be a burden, their health issues are neglected and they are never treated for the chronic diseases that affect them.
The musical concert with its enchanting medley of the songs from the golden era of Indian film music was a treat for the inmates of the Shepherd's Widow Home.
Speaking on the occasion, Dr. Mukesh Batra said, "I am truly happy that so many of my friends and patients came forward to support me for my debut public performance. Music and homeopathy have one thing in common — they provide safe, gentle, non-invasive healing effects. My greatest inspiration is supporting a cause that allows me to collect funds for the less privileged. Hence, this concert. It is more than my first-ever public performance, it is a noble initiative fulfilled."
Dr. Mukesh Batra's 'Yadoon Ki Bahaar' successfully revived 'When melody was king' epoch of Indian film music. It was truly a melodious evening for the mind, body and soul.