March 22, 2010
Dr. Mukesh Batra Launches Book to Spread Awareness on Homeopathy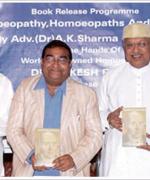 ##PHOTO_GALLERY##
Dr. Mukesh Batra, CMD & Founder, Dr Batra's™ Positive Health Clinics, World's largest branded homeopathic healthcare corporate was invited as the Chief Guest to launch Dr. A. K. Sharma's book, 'Homeopathy, Homeopaths and The Law'.
The other esteemed guests present on the occasion were Nanik Rupani, Ajit Gupta, Mukesh Sharma, Former Sheriffs Kiran Shantaram and Dr. Jaggannath Hegde.
Homeopathy is one of the most popular segments in alternative medicine. Practiced in over 80 countries by 400 million people, it is the 2nd largest system of medicine in the world, as per WHO. It has been quoted in an ASSOCHAM report that users of homeopathy are not just growing in India but also worldwide as it roots out ailments for good.
20% of people in India have used homeopathy sometime in their lives. There are over 3,00,000 qualified homeopathic practitioners (special Indian status), 7500 government clinics, 307 hospitals,180 teaching institutes affiliated to universities.
Speaking on the occasion, Dr. Mukesh Batra, stated, "It gives me immense pleasure to be a part of this prestigious gathering here today. This book is a useful guide for fresh homeopaths to stay in touch with their ethical responsibilities. I would like to appreciate Dr. A.K. Sharma and Dr. M. K. Arya for their inspiring, genuine efforts to direct young homeopaths to the right career path". Over the past 27 years, Dr Batra's™ has been successful in creating acceptance for the holistic approach of homeopathy — treating the individual rather than the disease. This has brought about a paradigm shift in the perceptions of people towards homeopathy. The effective use of technology has further enabled Dr Batra's™ to provide pioneering health solutions not only in the field of medicine, but also in the broader wellness sector. Dr. Mukesh Batra's noble idea of providing the consumer with the choice of safer healthcare, and treatment without side-effects and institutionalising homeopathy was way ahead of its time. It has truly made a positive difference to society, transforming many peoples' lives, their health and well-being.