July 27, 2016
Dr Mukesh Batra honoured at the British Parliament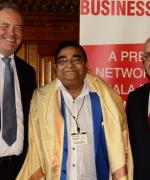 ##PHOTO_GALLERY##
Dr Mukesh Batra, Padma Shri Recipient and a visionary entrepreneur with professional excellence and experience of over 40 years in the field of Homeopathy was recognized at the House of Commons at the UK Parliament for his path breaking work in the field of homeopathy medicine during the 'UK India Healthcare Summit 2016'
The attendees at the Summit included healthcare service providers from UK and India, policymakers from UK and India, Members of House of Lords & House of Commons. The Summit focused on sharing healthcare related information between the two nations to seek ways to extend access, improve quality, and lower the cost of care to their citizens.
One of the biggest challenges of medical institutions has been the measurement of treatment outcomes. Treatment outcomes are often subjective, variable and are not defined by specific medical protocols to measure the success of the treatment. Dr Mukesh Batra, having introduced and successfully implemented effective patient and medical protocols for measurement of patient experience and patient treatment outcome spoke on the how healthcare service providers can use technology for measured treatment outcomes and improving patient experience. He also spoke on how alternate therapies can be used to lower expenditure on healthcare, which is today a problem in both countries.
Other eminent speaker at the summit included Mr.Virendra Sharma MP Labour Party, Mr.Bob Blackman MP Conservative Party, Anil Mathew- Director, Continuous Improvement at National Health Service (NHS); Dr. Amarjeet Bhamra - Lead Secretariat, All Party Parliamentary Group on Indian Traditional Sciences among others.
About Dr Batra's™ Group of Companies
Dr Batra's™ Health Care Group was founded by Dr. Mukesh Batra in 1982 in Mumbai. The Group today is the leading Homoeopathic healthcare corporate, having 235 clinics across 130 cities with presence in India, Dubai and London. In 2009, the company introduced Aesthetic Services through its flagship brand Dr Batra's™ Aesthetic Solutions Pvt. Ltd. The aesthetic solutions arm of Dr Batra's™ offers wide services ranging from hair transplant, obesity solutions, to an array of skincare solutions.
The brand has also made significant progress and development in personal and healthcare products under its well established division Dr Batra's™ Positive Health Products Pvt. Ltd. This marks a phenomenal contribution by Dr Batra's™ due to its individualized treatment and care to over 10 lakh patients across the globe, including 3 lakh hair patients and 1 lakh skin patients.
Dr Batra's™ Cyber Clinic (www.drbatras.com) has been listed in the Limca Book of Records (Editions 2004 and 2005) for becoming the first-ever cyber clinic to offer online consultation to over 4.5 lakh patients every year. It has also launched the world first tele-homoeopathy clinic which enables real-time multi-location connectivity. The brand is the only Homeopathic Most Trusted No. 1 Ranked Brand by The Brand Trust Report India Study 2013, and feted as a Power Brand for the year 2012 by Planman Media. Batra's™ is the world first homoeopathic healthcare corporate to receive the much-coveted ISO 9001-2008 Certification. Moreover the brand is well known as a philanthropic work for underprivileged sections of the society to get free treatment.