May 9, 2011
Dr. Mukesh Batra & Dr. Akshay Batra extend their annual charity photo exhibition to three cities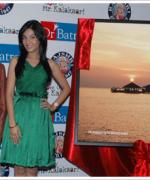 ##PHOTO_GALLERY##
Not content with being an illustrious homeopath, entrepreneur, author, and singer, Dr. Mukesh Batra has developed into an accomplished photographer. Now into his seventh annual photo exhibition, his pictures display as acute an eye for nature's splendours as for the body's frailties.
Dr Batra's interest in photography was first sparked by his travels around the world. Although minus any professional training, he was encouraged to wield the lens by family and friends. What he lacked in technique, he made up for in enthusiasm. His early efforts were spotted by then editor of Afternoon Dispatch & Courier, Farzana Contractor, who featured them in the paper. This was just the impetus he needed. Turning to the best in the business, he sought advice from Atul Kasbekar on advanced camera use and techniques. Pretty soon, he was ready to go public with his first exhibition. Hosted by Citibank, it celebrated the Himalayas. Subsequently, he has held an exhibition every year showcasing the natural beauty of a particular locale. Subjects have included Nepal, Switzerland and Italy.
Homeopath and trichologist, Dr. Akshay Batra, shares his father's twin passions — healing and photography, and for the last couple of years has collaborated in these collections. For Dr. Mukesh Batra, photography is more than just a creative expression; it is a way of sharing cherished experiences with others. It has also become a way to contribute to society. Every year the proceeds of his exhibition are donated to charity.
This year all proceeds will go to People For Animals, India's largest animal welfare organization headed by Smt. Maneka Gandhi.