November 12, 2009
Dr Batra'sâ"¢ salutes the spirit of 8 Positive Health Heroes at Positive Health Awards 2009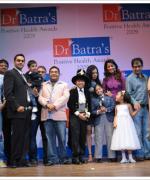 ##PHOTO_GALLERY##
What is common between a 5 year old girl afflicted with cancer, a 10 year old boy with a rare genetic disorder, an 18 year old girl with Down's Syndrome and a 54 year old cancer survivor?
It's the way they look at life! It's their positive spirit; the spirit of 'not giving up' but rather 'living' their life to the fullest – The Human Spirit of Survival.
Eight such 'medical marvels' were commended today for their unyielding grit, unflinching determination and immense self-control at the Positive Health Awards ceremony for the year 2009, held at St. Andrews Auditorium, Bandra. In its 4th year, the Positive Health Awards are India's first health honours instituted by Dr Batra's™ Positive Health Clinic Pvt. Ltd., to commend people who, through positivity and strength, have fought and recovered from severe and debilitating diseases and disabilities to lead normal lives again. These are medical wonders who have shown the world what the 'spirit of survival' really means. They are people who have truly beaten the odds to overcome seemingly hopeless conditions and live happy normal lives. They are the real 'Positive Health Heroes'.
From the 183 nominations received this year from people belonging to different walks of life from across India, an esteemed panel consisting of eminent medical professionals selected 8 people fitting the selection criteria the best.
The glittering award ceremony was graced by Anu Malik and Mughda Godse, who did the honour of presenting the awards to the eight awardees. Also present on the occasion were a generous selection of people whose lives have been touched by Dr Batra'sâ"¢ Positive Health Clinics including Ms. Reena Roy, Mr. Sameer Mondal, Gulshan Grover, Ananya Banerjee, amongst others.
Speaking on the occasion, Dr. Mukesh Batra, Founder and CMD, Dr Batra's™ Positive Health Clinic Pvt. Ltd. said, "The 21st century spells the survival of the fittest and it is fantastic to see how our real life 'Heroes' portray this with great ease and enthusiasm. By being rendered as one of these 'Heroes', there is a subsequent creation of awareness amongst the general public about the paramount importance of positive living and an optimistic attitude towards life. These 'Heroes' not only motivate the common man but also set an inspiring example that a disease or a disability should not be viewed as an obstacle but a challenge to be overcome. As a medical professional, I have always been inspired by individuals who believe in self-motivation and profess independence. The Positive Health Awards is a serious platform that honours this positive spirit thereby re-affirming our commitment to all round health and positivity."
The criteria through which the awardees were selected:
The awardees -
Should have fought and recovered from severe and debilitating disease and disability to lead a normal life
Should be an extraordinary example of courage and conviction
Should epitomize the best of human spirit and its ability to triumph over adversity
Over and above these, the panel also took into consideration any contribution made by the prospective awardees towards the betterment of society
The Awardees:
Master Ashley Vanristell – A 10 year old boy with rare genetic disorder, who runs a foundation to support children with the same problem by performing magic tricks and modelling in ads.
Ms. Neerja Malik – A 54 year old cancer survivor, who runs an NGO called Apollo Cancer Support Group to motivate other cancer patients.
Ms. Malathi Holla – A 48 year old polio-afflicted lady, a Padmashree awardee, who runs an NGO.
Mr. Charudatta Jadhav – A 40 year old blind man, an international chess player and software developer, who is working towards the employment of the disabled.
Ms. Ashrita Shetty – A 21 year old girl with Down Syndrome, who is a outstanding dancer and trains under Shaimak Davar.
Ms. Gauri Gadgil – A 18 year old girl with Down Syndrome, a swimming champion who has won a Silver medal in the last Summer Special Olympics.
Ms. Sahara Shah – A 5 year old girl afflicted with cancer, modelling in ads.
Dr. Yusuf Merchant – A doctor by profession, who launched the Drug Abuse Information Rehabilitation & Research Centre to create awareness and fight drug abuse.