August 25, 2009
Dr Batra'sâ"¢ launches yet another clinic - extends its footprint in East Delhi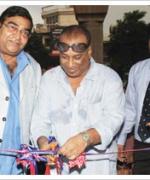 ##PHOTO_GALLERY##
In continuation with their aggressive expansion plans, the world's largest homeopathy chain, Dr Batra's™ Positive Health Clinic Pvt. Ltd., announced the opening of their flagship East Delhi Clinic today at Shankar Vihar near V3S mall.
This initiative highlights the health establishment's achievement in introducing their 53rd clinic in India, 6th clinic in Delhi NCR and the very first clinic in East Delhi. This opening highlights the organization's aim of ensuring that prompt healthcare solutions are made easily accessible to the masses, thereby extending their reach across the length and breadth of India.
The newly opened state-of-the-art clinic, spread over 2900 sq. ft. is located at Building No. 4, Ground Floor, Shankar Vihar, Vikas Marg, New Delhi – 110 092. The panel of doctors will include MDs, Merit holders & Gold Medalists, Specialists in trichology, dermatology, general medicine, diabetes and pediatrics, among other specialized fields.
The clinic will showcase world-class human technology and specialized services of Tele-Homeopathy Clinic, ERP backed processes, a Cyber Clinic, 12-hour chat and call-center, PC based video microscope, low level laser therapy, piler therapy for hair and skin treatments, amongst others. Areas of treatment will cover skin and respiratory ailments, weight management, asthma, allergy and many other chronic cases.
The pricing will be competitive and affordable. Strategically located, this clinic offers its patrons an ultimate wellbeing experience. Elegant and contemporary, the clinic's lively interiors are consistent across all Dr Batra's™ clinics amidst an ambience which spells hospitality with sophistication. The medicines at the clinic are FDA approved, sourced and tested as per Indian Homeopathic Pharmacopoeia Standards set by Government of India and International Pharmacopoeia Standards.
To celebrate the clinic opening, Dr. Daniel Raj, Regional Head - North Zone at Dr. Batra's, added, "It will remain our endeavor to invent and introduce new services so that our customers can gain maximum benefits from our brand. We aim to position homeopathy as the preferred choice of medication in India and hope we continue to receive support, as always, from our patients based in New Delhi."
Over the past 27 years, Dr Batra'sâ"¢ have been successful in creating acceptance for the holistic approach of homeopathy which treats the individual rather than the disease and has brought about a paradigm shift in the perceptions of people towards homeopathy. The effective use of technology has further enabled Dr Batra'sâ"¢ to provide pioneering health solutions not only in the field of medicine but also in the broader wellness sector.