April 21, 2010
Dr Batra'sâ"¢ launches world-class homeopathic healthcare clinic in Indore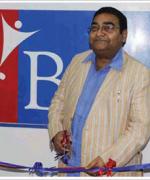 ##PHOTO_GALLERY##
The world's largest homeopathy chain extends its services to Madhya Pradesh.
After the successful launch of its new, international homeopathic clinics in Muscat, Dubai and London, Dr Batra's™ Positive Health Clinic Pvt. Ltd., the world's largest homeopathy chain, set its footprints in Indore with its 56th clinic in the world. The new clinic showcases the corporate's vision of reaching out to the length and breadth of the country and bringing branded homeopathic healthcare solutions to the discerning consumer.
The state-of-the-art clinic, spread over 2,000 sq. ft. is located on 1st Floor, 102, Building 9/1/2, M G Road, Indore, Madhya Pradesh. The doctor-in-charge of the clinic is a university-qualified doctor in homeopathic medicine. A senior doctor from Mumbai will be based in Indore, for a while, to augment seamless integration of services.
The clinic offers Tele-Homeopathy Clinic for real time multi-locational connectivity between patients and doctors — including MDs, merit holders, gold medalists, specialists in trichology, dermatology, general medicine, diabetes and pediatrics. This enables doctor-patient interaction through video-conferencing for consultation, or second opinion, across various geographies.
The clinic will showcase world-class technology to complement homeopathic treatment with patient orientation being the core focus. Other facilities include instant 24x7 access to databases of individual patient's medical history, reports and prescriptions across multiple locations, irrespective of geographical boundaries. Needless to say, there would be no need for patients in Indore to carry reports, if they were to visit any of our clinics in Mumbai, New Delhi, or anywhere and/or go through registration formalities. A Cyber Clinic will be another feature — patients from over 60 countries will be able to connect with Dr Batra's™ for treatment. There will also be a 12-hour chat and call-centre to reach out to the patient community extensively.
Patients will have access to new generation technology like, PC-based Video Microscope, Low Level Laser Therapy, Pilar Light therapy for hair and skin treatments. Areas of treatment will cover chronic diseases like weight management, respiratory ailments, gastro-intestinal diseases, other lifestyle and stress-related disorders, among others.
The clinic offers an ultimate wellbeing experience. Stylish and modern, it has a uniform design which is standard across all Dr Batra'sâ"¢ clinics, with a hospitable ambience. The medicines at the clinic are FDA approved, sourced and tested as per Indian Homeopathic Pharmacopic Standards, set by Government of India and International Pharmacopic Standards.
Speaking on the occasion, Dr. Mukesh Batra, Founder & CMD, Dr Batra's™, who was also the Chief Guest Speaker at IIM Indore, said, "It gives us great pleasure to be present in Madhya Pradesh. Homeopathy is the medicine of the future. It is gaining increasing popularity as a safe and gentle system of medicine across the world. It is our endeavour to invent and introduce world-class homeopathy, supported by cutting-edge technology, for our customers to gain maximum benefits from our brand. We aim to position homeopathy as the preferred choice of medication in India. We are confident that we will receive full support from Indore."
Homeopathy offers customised treatment to every patient to stimulate his or her body's own healing processes. It addresses the underlying causes of acute or chronic diseases rather than treating just the symptoms of disease. Dr Batra'sâ"¢ has played a pivotal role in changing the way Homeopathy is perceived globally. Today, people from all over the world visit Dr Batra'sâ"¢ clinics to benefit from their homeopathic medical services.
Till date, Dr Batra'sâ"¢ has successfully treated over 1,50,000 hair patients and over 70,000 skin patients.
As per Assessment Report from American Quality Assessors for ISO 9001:2008 certification, 93% patients showed positive results at the end of an annual plan at Dr Batra's™. Dr Batra's™ was awarded with the prestigious "Retailer of the Year" title at the Asia Retail Congress 2009. It recently topped the Complete Wellbeing Health and Happiness Brand (nationwide) Survey 2009 in association with Synovate.