July 12, 2012
Dr Batra's™ is India's Top PowerBrand in Healthcare and Wellbeing Category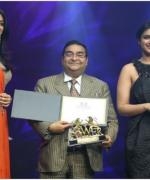 ##PHOTO_GALLERY##
Mumbai, July 2012: Adding another feather to its cap, Dr Batra's™ Positive Health Clinic Pvt. Ltd. has been recognized as one of India's top 100 PowerBrands 2012 by Planman Media in association with the Indian Council for Market Research (ICMR) in the second edition of PowerBrands, a research-driven Power Book of India's 100 most powerful brands.
Dr. Mukesh Batra, Chairman, Dr Batra's™ Positive Health Clinic Pvt. Ltd., was ecstatic to receive the recognition and said, "We are pleased to be acknowledged as one of the most powerful brands in India. It's always a morale booster when sincere efforts are recognized. This has come about due to the dedicated work of the entire team of doctors and staff at Dr Batra's™, who have contributed in creating a topnotch brand image and groundswell of goodwill among our patients. In turn, our patients have reciprocated with unflinching loyalty and trust in our services in the field of homeopathic healthcare."
ICMR conducted a research on the brands based on their consumption patterns over the years as well as cult following. A survey was initiated by preparing a list of 20,000 brands across India under 40 different categories and 92 sub-categories. In the initial list, 10,000 brands were short-listed based on their reach, availability, demand and growth. In the second stage, a review was done to list the top 1,000 brands, based on the parameters of Brand Recall and Brand Perception. The parameters focused on the high recall value and other factors such as Brand Following and Brand Connect, garnered via various marketing activities conducted by organisations to promote their brand.
Thereafter, a consumer survey was conducted among a sample size of 11,000 consumers in 22 cities pan-India, including Delhi, Mumbai, Kolkata, Bengaluru, Chennai, Hyderabad, Ahmedabad, Pune, Jaipur and Chandigarh. Finally, the list of top 100 brands emerged which includes Lux, Cadbury Dairy Milk, CNN –IBN, Van Heusen including Dr Batra's™ and many more.
Under the exemplary leadership of Dr. Mukesh Batra, Dr Batra'sâ"¢ has grown to its present stature with 93 super-speciality clinics across 36 cities in India, UK and UAE. The proactive approach towards homeopathic clinics, its treatments for hair and skin, and the credit of making it a success story goes to this well-known brand of homeopathy that has made its mark not only in India but internationally, making it undoubtedly a POWERBRAND.
About Dr Batra'sâ"¢ Positive Health Clinic Pvt. Limited (DBPHCPL):
Founded by Dr. Mukesh Batra in 1982, Dr Batra'sâ"¢ Positive Health Clinic Pvt. Ltd. is India's leading homeopathic healthcare corporate. Dr. Mukesh Batra set up a single clinic in Mumbai in 1982, which has grown into a corporate chain of 93 homeopathic clinics across 36 cities in India and abroad. The Company has over 275 doctors including 40 MDs, Merit holders, Gold Medalists, and Specialists in Trichology, Dermatology, General Medicine, Cardiology, Diabetology, and Paediatrics, who are hand-picked and personally trained by Dr. Mukesh Batra. Dr Batra'sâ"¢ treats lakhs of patients every year for chronic diseases including Asthma and Diabetes, aside from PCOD, Attention Deficit Hyperactivity Disorder (ADHD) and a whole gamut of men, women, and children-related problems, besides hair and skin diseases. DBPHCPL's Cyber Clinic (www.drbatras.com) was listed in the Limca Book of Records (Editions 2004 and 2005) for being the first Cyber Clinic to offer Online Consultation to over 4.5 lakh patients every year from over 87 countries around the world. DBPHCPL is also the World's First Homeopathic Healthcare Corporate to receive ISO 9001-2008 Certification. DBPHCPL launched the World's First Tele-Homeopathy Clinic, which enables real-time multi-location connectivity between patients, the consulting doctor and in-house super-specialists.