August 26, 2009
Dr Batra'sâ"¢ extends services to mobile platform; launches mHealth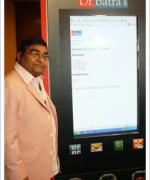 ##PHOTO_GALLERY##
Homeopathy chain Dr Batra'sâ"¢ Positive Health Clinic plans to launch a service to treat patients through mobile phones.
The company, which today introduced 'mHealth' a mobile phone application, hopes to tap an estimated 40 crore cell phone users in the country.
The company said it is working with various telecom companies, including Airtel, for starting the service.
"We treat around 1.30 lakh patients in a month. As mobile users are increasing every day, we felt our services should extend into this platform as well. So leveraging the high mobile penetration, we have introduced mHealth," Dr Batra'sâ"¢ Positive Health Clinic Chairman and Managing Director, Mukesh Batra, told reporters.
He also said the company has invested around Rs. 2 crore on upgrading technology for the services.
"There are over 40 crore mobile users in the country. Through this service, we hope to access them. We are working with various telecom companies, including Cartel, in the capital for networking purposes," he said.
Talking about its expansion plan, Batra said the company will open five outlets across the country and one in the UK. He also said in another two years, it plans to launch 10 hair transplant clinics across the country." We have 52 outlets and we are planning to open five more in cities like Mumbai and Kolkata, besides one in London," Batra said.
Asked about his earlier claims that it can treat swine flu, Batra said it is ready to work under a private-public partnership model to combat the disease. "We have not been approached by the government. If it does, then we are ready to help. And earlier records show that homeopathy is capable of treating other pandemic flu. So we are confident that we can treat swine flu as well," he added.