March 18, 2010
Dr Batra'sâ"¢ 6th Annual Photo Exhibition - inaugurated by Vivek Oberoi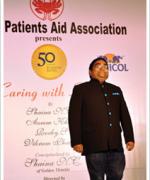 ##PHOTO_GALLERY##
What kick-started as a hobby for Dr. Mukesh and Dr. Akshay Batra, has become an annual fixture on the city's art calendar. In an era where art photography has become synonymous with photoshop manipulation, here are photographers who make the fast-vanishing dark room their studio and a man v/s wild concept their muse!
Renowned medical experts of India, the father and son team find time to pursue their second love, photography in which they have no formal education but only a drive to explore a life beyond medicine. They exhibited yet another remarkable collection of more than thirty photographs in their charity exhibition titled 'Paradise Found' - a photographic salutation to co-existence, inaugurated by Bollywood actor, Vivek Oberoi at NCPA, Piramal Gallery.
Being in a profession that is as noble as it is demanding, the doctors yet find time to pursue their hobbies only to cater to a good cause, as the proceeds of their annual photography expositions are given to charity. This year, proceeds from the show will be shared between 'Happy Home & School for the Blind' and 'People for Animals'.
The show preview was held at National Centre of Performing Arts and was attended by the city's elite personalities. Guests who were spotted were Ambika Shukla, Sonali and Roopkumar Rathod, Rajiv Bajaj, Parvez Damania, Farid Currim, Ananya Banerjee, Raell Padamsee, Samir Mondal, Barkha Roy, Dilip Piramal, Farzana Contractor, amongst others.
'Paradise Found' is a first of its kind photo exhibition depicting human travails of passion and the work of divinity. It is a visual journey exploring the diversity of environment in contrast to the magnitude of structural designs. Colours dance and patterns swirl into focus on the canvas as we experience the sensitive and technical expertise of these seasoned professionals. These artful views capture the mighty and the quiet, and how man and nature can co-exist in harmony and contribute to overall exquisiteness.
We experience a gamut of emotions as we soak in the beauty of the serene foliage and flora of the European countryside, the hope of the rising sun and the concealed magic of designed architectural marvels.
The cosmic sea engulfing an enraged sun, cottages standing tall amidst serene mountainous regions, virginal speed boats balancing on turquoise waters, dancing flowers adding colourful charm to picturesque locales can be seen in this remarkable collection of photo compositions.
Speaking on the occasion, Dr. Mukesh Batra said, "Photography is a technique to interpret images. It is true artistic expression that allows you to communicate beauty, sorrow, awe, joy, sadness, bliss, exhilaration, disillusionment and a lot more. My biggest inspiration is my cause – a good cause.
This allows me to collect funds for the underprivileged. This year there are two charities viz. Happy Home and School for the Blind and People For Animals, both of which I have been actively involved with and are dear to my heart. As a doctor, I have seen so much pain and sufferings of my patients that I wanted to keep my sensitivity alive through some form or the other."
Dr. Akshay Batra added, "I have evolved as a photographer who loves the 'journey' into the real world. I draw visual connections from philosophy and prevailing prejudices in the world with my perspectives. I revel in weaving visual stories out of common sightings which truly reflect a magnificent movement, called life."
Works from Dr. Batra's previous exhibitions have adorned the Raj Bhavan, the Citigold Lounges at the Citibank offices of Mumbai and Delhi and the corporate office of Bajaj as well as other prestigious homes and offices.
The select works are from their collection on "Paradise Found" and part of various private and gallery collections. The exhibition will be open for public viewing from 18th March till 21st of March, 2010 at the same venue between 12 noon to 8:00 p.m.
The photographs will also be available for sale at all Dr Batra'sâ"¢ clinics in Mumbai after the 21st of March, 2010. Prices begin from Rs. 500/- onwards.