January 11, 2016
Dr Batra's ™ opens the World's first State-of-the-Art Signature Homeopathy Clinic at Al Wasl, Dubai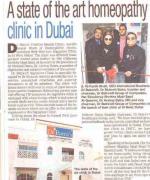 ##PHOTO_GALLERY##
Dr Batra's™ Positive Health Clinic, world's largest chain of homeopathic clinics, launched their first ever Signature Clinic in Al Wasl, Dubai. The clinic was officially inaugurated amidst great fanfare by Her Highness Sheikha Majd Saud Al-Qassimi in the presence of Dr. Mukesh Batra, Dr. Akshay Batra, dignitaries and eminent members of the society.
Dr Batra's™ Signature Clinic is specially designed by Dr. Mukesh Batra himself to provide the best in service, unmatched experience and superior treatments to all its members. The clinic will house doctors with over 10 years of experience in homeopathic treatment. Enhancing patient care and offering VIP treatment, the signature clinic is equipped with a luxe lounge which is inclusive of a royal butler service, music lounge and a doctor home visit service. These are only some of the bespoke services which are on offer to the patients registered at this Signature Clinic.
Talking about the plans to expand their presence in Dubai, Dr Mukesh Batra, founder chairman,Dr Batra's™ Healthcare Group, said, "We have received great patient feedback in the last 6 years that we have been operational in Dubai. From one clinic in DHCC, we have grown to four clinics across UAE and plan to open six more clinics by 2017."
Speaking at the launch Her Excellency Sheikha Majd Saud Al-Qassimi said, "It makes me happy to see homeopathy being recognized and accepted by locals in the UAE and that Dubai now attracts the latest and finest treatments in healthcare. I wish Dr Batra's™ all the very best for the future and hope to see them operational all over UAE."