January 22, 2015
Dr Batra's pet Care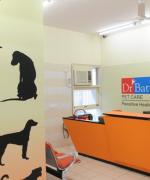 ##PHOTO_GALLERY##
India's first-ever homeopathy-cum-veterinary hospital at Yusuf Sarai
New Delhi, 22nd January 2014: Dr Batra's, India's largest homeopathic healthcare corporate, opened the first-ever homeopathy cum veterinary hospital in New Delhi for pet care, today. The state-of-the-art hospital, spread across three floors in Yusuf Sarai, was inaugurated by Mrs. Maneka Gandhi, the well-known politician, environmentalist, and animal rights activist, along with Dr Mukesh Batra, Padma Shri recipient, Founder and Chairman of Dr Batra's Healthcare Group.
On this occasion, Mrs. Maneka Gandhi, the well-known politician, environmentalist, and animal rights activist, said, "I am delighted to launch Dr Batra's state-of-the-art Pet Care Hospital, which is India's first-ever homeopathy-cum-veterinary hospital. For the last eight years, Dr Batra's has been supporting us by providing free treatment at our Animal Centre in Delhi. I have seen wonderful results that homeopathy can provide in veterinary treatment.
Speaking at the launch of the one-of-its-kind pet hospital, Dr Mukesh Batra, a Padma Shri recipient, said: "In UK, 50% of vets use homeopathy in their practice, whereas in India the use of homeopathy for animals is relatively unknown. With the launch of this new hospital together with other facilities we would be able to treat pets with homeopathy, a safe and effective treatment for pets.
Dr Batra's multi-speciality state-of-the-art Pet Care Hospital offers a range of services — from blood tests and X-rays to vaccination, grooming, surgical procedures, allopathic and homeopathic treatment and a pet shop. It is staffed by a dedicated team of trained vet doctors and equipped with modern technology and state-of-the-art infrastructure. The hospital has customized operation tables, imported hydraulic machines and bath tubs to ensure zero trauma to pets. The hospital is fully computerized and it has advanced systems and processes that electronically stores your pet's medical records. It will be open throughout the day and in emergencies at night. From the best laboratory in Delhi for pets to surgery, post-surgery and overnight stay accommodation, this is a one-stop medical centre for the treatment of pets.
According to one estimate, there are over 10.2 million pets in India, 80% of them being dogs, 15% cats and the rest birds and fish. Around 3.6 million pet dogs exist in the six major cities of India alone.
About Dr Batra's
Dr Batra's Health Care Group was founded by Dr. Mukesh Batra in 1982 in Mumbai. It is today the leading homoeopathic healthcare corporate in India, running 132 hospitals across 67 cities, with presence in locations such as India, Dubai and London. In 2009, the company introduced aesthetic solutions through its flagship brand, Dr. Batra's Aesthetic Solutions. It offers services ranging from hair transplant and obesity solutions to skincare.
Dr Batra's has made significant progress in the personal and healthcare products market through its well-established division, Dr Batra's Positive Health Products. It has until now provided individualized treatment and care to over 7 lakh patients across the globe, including 3 lakh hair patients and 1 lakh skin patients.
Dr Batra's Cyber Hospital (www.drbatras.com) has been listed in the Limca Book of Records (Editions 2004 and 2005) for becoming the first-ever cyber hospital to offer online consultation to over 4.5 lakh patients every year. It has also launched the world's first tele-homoeopathy hospital which offers real-time, multi-location connectivity to patients across the world.
Dr Batra's emerged as India's only "Most Trusted" brand in the homeopathy segment in The Brand Trust Report – India Study 2013. It was feted as a Power Brand for the year 2012 by Planman Media. Dr Batra's is also the world's first homoeopathic healthcare corporate to receive the much-coveted ISO 9001-2008 certification. The brand is well known for its philanthropic work among underprivileged sections of the society.
For more information, please visit www.drbatras.com