November 13, 2014
Bajaj Discover presents Dr Batra's™ '9th Positive Health Awards' at NCPA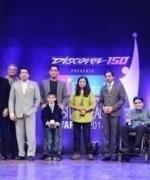 ##PHOTO_GALLERY##
Mumbai, December 01st, 2014: Dr Batra'sâ"¢ Positive Health Awards 2014, an initiative to recognise and award the heroism of those who have displayed outstanding courage and have inspired many people in different ways in their fight against disease and disability, was held at NCPA, Mumbai.
Cricketer M S Dhoni appreciated the courage of the heroes and presented the awards to the winners at a glittering ceremony that had over 1,000 people in attendance. It marked the 9th year of this initiative. He thanked Dr. Batra for his contribution not just in the auditorium but in the entire world.
Cricketer M S Dhoni said, "These awardees are really special who have overcome obstacles by standing up for themselves and others like you and me. It's a pleasure to be amongst these awardees. As a kid I was scared of injections and used to only go to a homeopath. I am a big fan of homeopathy and I thank you Dr. Batra for giving me this opportunity and for taking homeopathy worldwide."
The event was also attended by bollywood celebrities Varsha Usgaonkar, Rohit Roy, Shekhar Suman, Dolly Thakur, cricketer Zaheer Khan, TV producer - Siddharth Kak, Samir Mondal and Rouble Nagi.
The winners of this year's edition of the awards were selected by an eminent panel of jurists, comprising Maneka Gandhi, Vivek Oberoi, R. Balki, Rajiv Bajaj and Dr. Mukesh Batra, Padma Shri Recipient - Founder & Chairman, Dr Batra's™ Positive Health Clinic. The awardees were Ms. Arunima Sinha, Ms. Laxmi, Mst. Hridayeshwar Singh Bhati, Mr. Navin Gulia and Mr. Nilesh Singhal who exemplified what it takes to transform humans into heroes.
In addition to a short biographic film on each awardee, attendees at the award function were treated to scintillating dance performance by Ability Unlimited Foundation a dance troupe of specially-abled children. There was also a musical rendition by the students of The Victoria Memorial School for the Blind.
Speaking on the occasion, Dr. Mukesh Batra, Padma Shri recipient said, "More than medical marvels, each one of our Positive Health Heroes we honor ever year represent the triumph of the human spirit. This is the 9th year of these awards, and every year I am surprised at the spirit these awardees exhibit. They are truly ambassadors of life worth living."
Reiterating his support to the cause, Mr. Rajiv Bajaj said: "It's my belief in homeopathy that got me associated with Dr. Mukesh Batra and his organisation. It's, indeed, an honour to support the world's largest chain of homeopathy clinics for such a great cause. Having been associated with this initiative and having witnessed the remarkable stories of strength and recovery of the awardees, I have seen this event grow phenomenally."
About the Awardees 2014
Arunima Sinha – At the age of 23, Arunima lost her leg in a train accident. Disturbed at the thought of spending the rest of her life in a wheel chair Arunima turned to God and had strong conviction that he had a plan for her. After losing her leg, she wanted to prove to herself & to the world that for people who suffer from these types of incidents that life does not stop there. She wanted to motivate people. Arunima became the world's first female amputee to climb Mt. Everest, Mt. Elbrus & Kilimanjaro. She is now dedicated towards social welfare and wants to open a free sports academy for the poor and differently-abled people. She donates all the financial aids that she gets through awards and seminars for the same cause.
Laxmi – Laxmi a victim of acid attack. At the age of 15 she was attacked by a spurned lover. The deadly attack left her scarred but this did not scar her spirits. She recalls the first time she saw her face after the acid attack. As she looked in the mirror and saw her disfigured face she stood there broken and shattered. She wanted to do something and had no idea how to rise above the attack; she didn't know how to go ahead. Laxmi, now 24, is fighting against acid attacks. She had filed a PIL in the Supreme Court seeking tougher regulations on the sale of acid and harsher punishment for attackers.
Hridayeshwar Singh Bhati – At the age of four, Hridayeshwar was diagnosed with Duchenne muscular dystrophy, a degenerative disorder which affected the use of his arms and legs and is confined to a wheelchair. He is best known for inventing the six-player variant of chess. He invented the variant at the age of nine with his father's assistance. He was granted a patent for his invention in 2012, making him the youngest patent-holder and the worlds' youngest disabled patent holder. He is the only minor having maximum patents in India and is also the youngest disabled person to have maximum patents in the world. He invented Eeco car and automatic Scorpio for those who are disabled and is working on a new idea on air-conditioning.
Navin Gulia – Navin was injured during a competition where he permanently injured his spine that left him paralyzed from his neck down. The injuries were so grave that doctors declared he would not survive more than three days. Recovery took almost two years. While lying on bed he contemplated on his life and was determined not to spend the rest of his life complaining. In the months to come gradually Navin understood that he could do everything he wanted to do. Navin started working with the War Wounded Foundation for the welfare of disabled soldiers and started Apni Duniya Apna Ashiana (ADAA), a project for underprivileged children. The project caters to the education, health, food, shelter and clothing needs for children from the weaker sections of society. He has received several awards for his contribution such as Karmveer Chakra etc.
Nilesh Singhal- At the age of 18 Nilesh lost sight to both eyes due to a medical complication. Despite his disability, he successfully adapted to the challenging conditions and continued his studies and his post-graduation in Political Science. With a desire to serve society, Nilesh appeared in MP Civil Service examinations as a general candidate and cleared the same, not once but three consecutive years. Nilesh never got a call for interview. He was informed that visually impaired are not fit to take the job. Due to this injustice he went ahead & filed a petition in the Indore HC against discrimination towards the visually impaired. He was fully aware that fight will be long and tiring. In 2008 the MP High Court ruled in his favour and ordered the government to identify posts for the disabled in various departments of the government. He has been honoured with several awards for his determination to change systems in India.
About Dr Batra'sâ"¢:
Dr Batra'sâ"¢ Health Care Group was founded by Dr. Mukesh Batra in 1982 in Mumbai. It is today, the leading homoeopathic healthcare corporate in India, running 169 clinics across 89 cities, in India, Dubai and London. In 2009, the company introduced aesthetic solutions through its flagship brand, Dr Batra'sâ"¢ Aesthetic Solutions. It offers services ranging from hair transplant and obesity solutions to skincare.
Dr Batra'sâ"¢ has made significant progress in the personal and healthcare products market through its well-established division, Dr Batra'sâ"¢ Positive Health Products. It has until now provided individualized treatment and care to over 10 lakh patients across the globe.
Dr Batra's™ Cyber Clinic has been listed in the Limca Book of Records (Editions 2004 and 2005) for becoming the first-ever cyber clinic to offer online consultation to over 4.5 lakh patients every year. It has also launched the world's first tele-homoeopathy clinic which offers real-time, multi-location connectivity to patients across the world.
Dr Batra's™ emerged as India's only "Most Trusted" brand in the homeopathy segment in The Brand Trust Report – India Study 2013. It was selected as a Power Brand for the year 2012 by Planman Media. Dr Batra's™ is also the world's first homoeopathic healthcare corporate to receive the much-coveted ISO 9001-2008 certification. The brand is well known for its philanthropic work for the uplift of the underprivileged.
For more information, please visit www.drbatras.com
About Dr Batra'sâ"¢ Positive Health Foundation:
Dr Batra's™ Positive Health Foundation has been making a profound difference to the lives of orphans, handicapped children and the elderly. On the first Tuesday of each month, one clinic in each of the cities where Dr Batra's™ is located, offers free consultation and medication to needy patients. Every employee at Dr Batra's™ contributes 1% of his/her salary to the Foundation every month. One percent of the organisation's net profit also goes to the same. The Foundation grants scholarships to deserving students who wish to pursue studies in homeopathy. It conducts CSR activities in a number of institutions such as the Happy Home & School For The Blind, Mumbai, Shepherd Widow's Home, Mumbai, Little Sisters of the Poor, Bengaluru, Mercy Old Age Home, Chennai, Anurag Services (Old Age Home), Hyderabad, Sandhya Home, Pune and People For Animals, New Delhi, to name a few. Every year, it honours individuals who are living medical miracles, having survived and recovered from seemingly irrecoverable conditions to lead remarkable lives.
About Dr Batra'sâ"¢ Positive Health Awards:
Dr Batra's™ Positive Health Clinics, the world's leading chain of homeopathy clinics, instituted the Positive Health Awards 8 years ago in 2006. These awards salute the heroism of those who have fought serious physical setbacks to survive and contribute meaningfully to society. We also honour those medical professionals who selflessly serve society. These awards encourage others to believe in themselves and show to the world that nothing is impossible.