September 16, 2011
Anil Kumble inaugurates Dr. Mukesh Batra's book 'Healing with Homeopathy'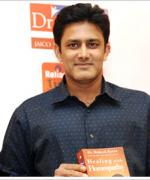 ##PHOTO_GALLERY##
Reputed homeopath, Dr. Mukesh Batra regaled a select crowd of invitees with anecdotes from his 35 years of practice wherein he has treated Prime Ministers including our current one, filmstars, singers and corporate heads at the launch of his practical, self-help book, Healing with Homeopathy, published by Jaico, at Reliance Timeout, this evening.
Legendary Cricketer and Chief guest, Anil Kumble expressed his trust in homeopathy at the launch event.
Speaking about the relevance of his book, Dr. Mukesh Batra said, "Forty years ago when I started out as a homeopath, homeopathy was not well accepted either medically or socially. Today, WHO has acknowledged it as the world's second largest system of medicine and one that is growing at a faster rate than allopathy. In this book, I have drawn upon my forty years of clinical experience to provide safe and sure health solutions for over 100 different diseases. The aim is to reach the benefits of homeopathy to the maximum number of holistic health seekers."
Speaking on the occasion, Anil Kumble said, "Homeopathy is growing in popularity worldwide, thanks to its non-violent, safe, and holistic approach to healing. I have, likewise, known the commendable work Dr. Mukesh Batra has been doing in healing people through homeopathy for many years. I also share something in common with him, a passion for nature photography...I am delighted to launch his handy, self-help book on homeopathy for anyone and everyone who wants to take charge of their and their family's health at home."
Coverage by ETV Bangalore
Coverage by Suvarna Bangalore