November 16, 2011
Abhay Deol Felicitates the Awardees at 6th Dr Batra'sâ"¢ Positive Health Awards in Mumbai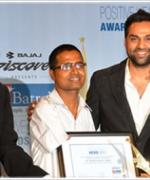 ##PHOTO_GALLERY##
Dr Batra's™ Positive Health Awards 2011, an initiative to recognize and award the heroism of those that have displayed outstanding courage in the fight against disease and disability, were held at the NCPA today. Bollywood icon, Abhay Deol presented the awards to this year's winners at a glittering ceremony that had over 1,000 people in attendance. It marked the 6th year of this initiative.
The winners for this year's edition of the awards were selected by an eminent panel of jurists comprising of Smt. Maneka Gandhi, Ms. Anu Aga, Mr. Vivek Oberoi, Mr. R. Balki, Mr. Rajiv Bajaj and Dr. Mukesh Batra. The awardees were, Mr. Girish Sharma, Mrs. Geeta Castelino, Mr. Rahul Deshmukh and Mr. Bandenawaz Sheikh who exemplified what it takes to transform humans into heroes.
In addition to a short biographic film on each awardee, attendees at the award function were treated to scintillating performances by dance guru Shiamak Davar's troupe of specially-abled children. There was also a musical rendition and dance performance by the students of The Happy Home and School for the Blind, with whom Dr Batra's™ is associated since last 40 years.
Speaking on the occasion, Dr. Mukesh Batra, Founder and CMD, Dr Batra's™ Positive Health Clinic Pvt. Ltd. said, "The Dr Batra's™ Positive Health Awards salutes people with unyielding grit and unflinching determination, who have beaten the odds to overcome seemingly hopeless conditions and give back something commendable to society in their own way. The heroes selected this year have demonstrated that very strength of the human spirit. The Positive Health Awards honor this spirit and re-affirm Dr Batra's™ commitment to health and positivity."
Reiterating his support to the cause, Mr. Rajiv Bajaj, MD, Bajaj Auto Ltd. said, "The Dr Batra's™ Positive Health Awards are a step in the right direction and we are proud to be associated with this initiative for the second consecutive year. We firmly believe that the awardees stories will inspire and spread hope to others."
About the Awardees:
Girish Sharma (24 years)- Girish, from Rajkot, lost his right leg when he was just 2 years old in a rail accident. Girish loved playing outdoors with his friends. Through sheer determination and a strong desire he took up badminton. He began playing badminton when he was 14, and within a year he became the world No. 2 in both singles and doubles physically-challenged categories. He has been selected for November 2011 world championship at Guatemala, South America.
Geeta Castelino (49 years)- Geeta, from Mumbai, was afflicted with Polio at the tender age of two and a half years. Today she is pursuing three careers - a consulting social psychologist, an educationist in the field of Art, Design & Fashion Technology and a Corporate Trainer. Geeta became a lecturer at the age of 18 and Principal at the age of 32. She heads the Kala Ghoda Street Festival and is a member of the Board of Kala Ghoda Association, Mumbai for the past 9 years.
Rahul Deshmukh (34 years)- Rahul, from Pune, has been an optimistic visually challenged youth he has an M.A. (Political Science & Sociology), B.Ed. (History & Marathi) and has even appeared for M.Phil (Sociology). He is working for the welfare of visually impaired and physically handicapped people since last 12 years. Rahul formed the 'Snehankit Association For The Non Seeing Friends' in 1999, when he was only in 12th standard. He also formed 'National Association For The Welfare Of Physically Challenged' (NAWPC) in May 2008 to work also for the rehabilitation of all types of physically challenged (not just the visually challenged).
Bandenawaz Nadaf (25 years)- Bandenawaz, from Mumbai, was born with no arms, a congenital anomaly. Today Bandenawaz is a painter. He paints with his feet. His foot-paintings adorn many a galleries, including Jehangir Art Gallery, and the homes of numerous people including that of Raveena Tandon.
About Dr Batra'sâ"¢ Positive Health Clinic Pvt. Limited (DBPHCPL):
Founded by Dr. Mukesh Batra in 1982, Dr Batra'sâ"¢ Positive Health Clinic Pvt. Ltd. (DBPHCPL) is India's leading homeopathic healthcare corporate. Dr. Mukesh Batra set up a single clinic in Mumbai in 1982, which today has grown into a corporate chain of 83 homeopathic clinics across 33 cities in India and abroad. The Company has over 250 doctors including 40 MDs, merit holders, gold medalists, and specialists in Trichology, Dermatology, General Medicine, Cardiology, Diabetology, and Paediatrics, who are hand-picked and personally trained by Dr. Mukesh Batra. Dr Batra'sâ"¢ treats lakhs of patients every year for chronic diseases including Asthma and Diabetes, aside from PCOD, Attention Deficit Hyperactivity Disorder (ADHD) and a whole gamut of men, women, and children-related problems, besides hair and skin diseases. DBPHCPL's Cyber Clinic (www.drbatras.com) was listed in the Limca Book of Records (Editions 2004 and 2005) for being the first Cyber Clinic to offer Online Consultation to over 4.5 lakh patients every year from over 87 countries around the world. DBPHCPL is also the World's First Homeopathic Healthcare Corporate to receive ISO 9001-2008 Certification. DBPHCPL recently launched the World's First Tele-Homeopathy Clinic, which enables real-time multi-locational connectivity between patients, the consulting doctor and in-house super-specialists.
About The Positive Health Awards:
Dr Batra's™ Positive Health Clinics, the world's leading chain of homeopathy clinics, instituted the Positive Health Awards 5 years ago in 2006. These awards salute the heroism of those who have fought serious physical setbacks to survive and contribute meaningfully to society. These awards encourage others to believe in themselves and show to the world that nothing is impossible.
Corporate Social Responsibility:
Dr Batra'sâ"¢ Positive Health Foundation has been making a profound difference to the lives of orphans, handicapped children and the elderly. On the first Monday of each month, one clinic in each of the cities where Dr Batra'sâ"¢ is located, offers free consultation and medication to needy patients. Every employee at Dr Batra'sâ"¢ contributes 1% of his/her salary to the Foundation every month. 1% of the organization's net profit also goes to the same. The Foundation grants scholarships to deserving students who wish to pursue studies in homeopathy. It conducts CSR activities in a number of institutions such as the Happy Home & School For The Blind, Shepherd Widow's Home, Mercy Old Age Home, Action India and People for Animals shelters, to just name a few. Every year, it honours individuals who are living medical miracles having survived and recovered from seemingly irrecoverable conditions to lead remarkable lives.