Sun 25, Sep 2011
Homeopathy roots out back pain from the 'root'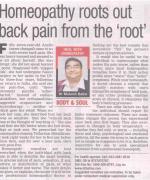 Homeopathy roots out back pain from the 'root'
Fifty-seven-year-old Arpita (name changed) presented with severe back pain. She was heavy torsoed and seemed to be all about herself. She was abrupt; she did not speak beyond a point. Diagnosed with "slipped disk," she had undergone fusion surgery, in her spine, in the US. For 3-4 years, following her return to India, she said she was pain-free, until "these extremely painful 'aches' started." Instead of endless painkillers, her orthopaedician suggested acupuncture and physiotherapy — neither of which gave her relief. When we took her case, she described that her back "was so sensitive," she "winced each time at the thought of touching it." She also said that she felt better when she lied down, or slept, or took rest. We prescribed her the homeopathic remedy, Tellurium Metallicum. It took eight weeks for her to feel any better. Since then, and for over a year now, she's been pain-free.
Homeopathic remedies are best prescribed when the individual with back pain is able to describe the exact location, the precise nature of pain, sensation, if any, pattern or distribution of pain, or what makes it better and worse. The more details one gives, or explains, the easier it will be for the professional homeopathic doctor to finding out the best remedy that accurately "fits" the person's unique symptom-picture.
It would also be useful for the individual to communicate what makes the pain worse, rather than better, since most homeopathic remedies have it in their action profile more "worse" than "better" symptoms. When your homeopathic doctor chooses a remedy that suitably matches with one's distinctive symptoms of back pain, or any other problem, whether acute or chronic, it stimulates the body's healing processes.
There are other factors too that the individual should report for better treatment outcomes. These are sometimes changes the person has experienced since back pain first began. They also correspond to changes in body temperature — whether they feel cold, or warm — including thirst and sleep, psychological and emotional patterns. All the same, the irony is, back pain is not as simple as it appears to be. It is, therefore, imperative for one to seek specialised treatment from a professional homeopath.